Akhirnya 'bayi' saya yang baru ini bisa 'menetas' di bioskop. Eggnoid adalah film ketiga saya, yang dibuat dengan penuh cinta dan kasih sayang seluruh anggota tim. Semoga apa yang kami curahkan selama beberapa bulan belakangan bisa diterima baik dan menghibur masyarakat,"
Film ini dibuat dengan penuh cinta apalagi dari ada ost dari Nidji, saya berharap cinta yg saya tumpahkan dapat disukai semua penonton. kata sutradara Naya Anindita di press screening di Plaza Senayan, Jakarta, Kamis (28/11/2019).
Produser Nurita Anandia menambahkan salah satu tantangan dari film adaptasi adalah menghadapi ekspektasi dari pembaca setia versi komiknya. Setelah berdiskusi dengan pencipta komiknya, mereka memutuskan untuk menghadirkan Ran dan Eggy versi lebih dewasa, yakni dua tahun lebih tua dari Eggy dan Ran di komik.
"Saya harap film Eggnoid bisa menggelitik rasa penasaran baik dari yang sudah baca komiknya atau belum baca. Yang sudah baca ingin tahu bagaimana Ran dan Eggy ketika kuliah, yang belum baca bisa baca komiknya untuk tahu masa lalu mereka berdua," papar produser yang akrab disapa Tata.
Sedangkan Archie The RedCat si pembuat Eggnoid di webton yang sudah ditonton sebanyak 4 juta mengatakan "sebelumnay saya terima kasih kepada Visinema mau memfilmkan dari webtoon saya, terus terang jika webton saya sekarang sudah ada 170 episode, saya juga sudah tau kalau ada perbedaan antara webton sama film, tapi saya melihat akhir filmnya sangat bagus. Saya sangat bangga pisan (dengan logat sunda kental) tokoh komikal yang saya dibuatkan versi filmnya tapi pas liat hasilnya tadi tidak ada cringe dan chemistry pas banget"
"Untuk proses pemilihan peran dimulai dengan casting, Morgan dan Sheila mengalami dua kali proses casting, dan hebatnya Morgan bisa menghasilkan akting yang bagus dan saya melihatnya memang pas peran Eggy diperankan oleh Morgan" ujar sang sutradara Naya Anindita.
Sementara itu Morgan sendiri mengatakan peran yang ia mainkan sebagai Eggy ini adalah peran yang sangat "mengemeskan, saya sudah membacanya di webton dan berusaha sebaik-baiknya untuk menerjemahkan keluguan Eggy di depan kamera agar penonton bisa ikut jatuh cinta, sama seperti yang dirasakan oleh Ran. Semoga penonton bisa suka dengan cerita Eggy dan Ran di film Eggnoid'
Sheila Dara, lawan main Morgan Oey yang berperan sebagai Ran, bercerita tentang keseruan dan tantangan berakting jadi remaja yang sudah mengalami banyak kejadian dalam hidupnya.
"Untungnya saya berhadapan dengan Morgan, lawan main yang asyik banget buat kerja bareng, dibantu juga dengan Naya sebagai sutradara yang sangat open dan he lpful selama proses syuting".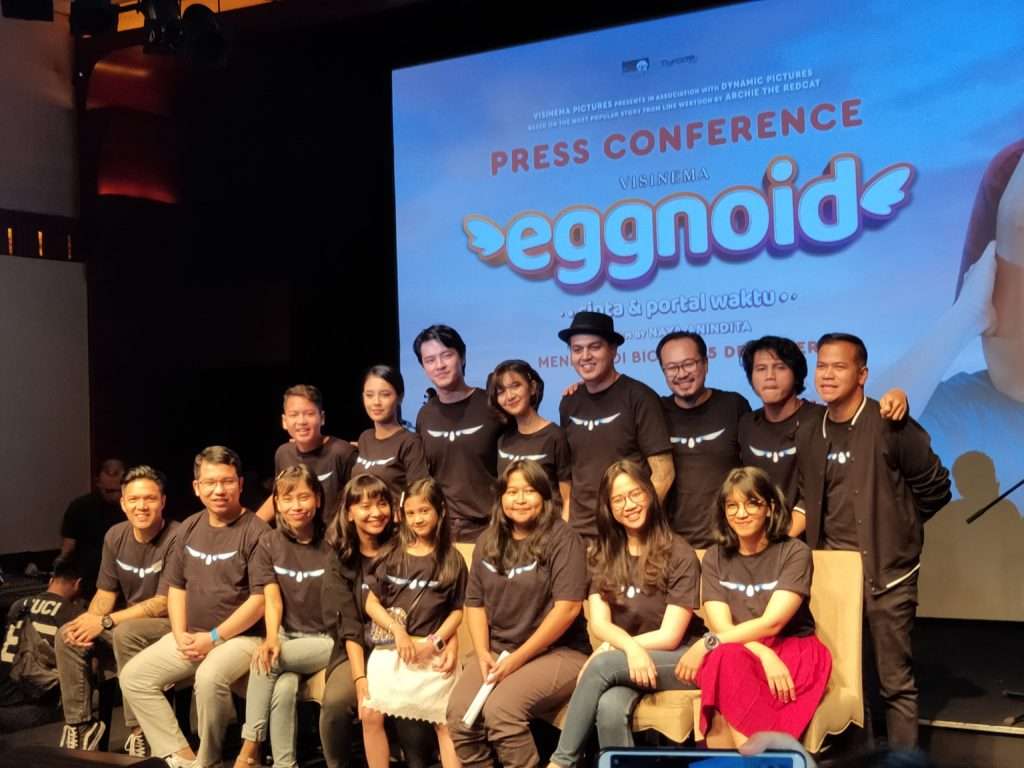 Eggnoid "Cinta dan Portal Waktu" mengisahkan Dua tahun lalu, Ran (Sheila Dara) menemukan seorang Eggnoid yang kemudian ia beri nama Eggy "Telor Ceplok" (Morgan Oey).
Eggnoid adalah manusia yang dikirim dari masa depan dan ditakdirkan untuk menjadi support system bagi master-nya. Ran adalah master Eggy, sehingga segala pilihan yang dibuat Eggy harus selalu berpusat pada kebahagiaan Ran.
Sebuah peristiwa memaksa Ran dan Eggy untuk membuat pilihan-pilihan yang mungkin akan menyalahi takdir keduanya.
Eggnoid dibintangi Morgan Oey, Sheila Dara, Luna Maya, Kevin Julio, Anggika Bolsterli, Reza Nagin, Martin Anugrah, Fatih Unru, Reuben Elishama dan Marissa Anita. Di produseri Nurita Anandia, sutradara Naya Anindita dan kuartet empat sekawan sebagai penulis Indriani Agustina, Naya Anindita, Nurita Anandia, Yemima Krisantina, Archie The RedCat.
Film adaptasi kedua dari Webtoon yang diproduksi Visinema Pictures akan segera tayang di bioskop seluruh Indonesia mulai 5 Desember 2019.
Penulis : Irwans