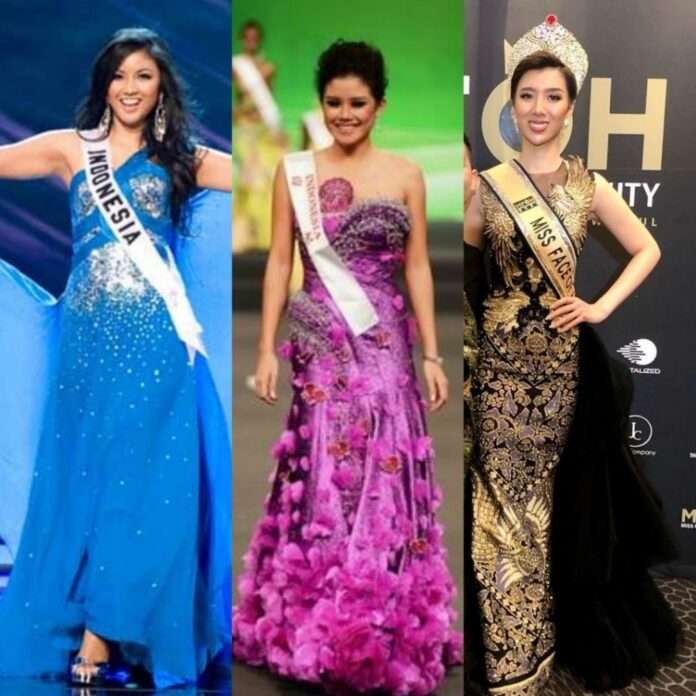 Bulan ramadhan adalah bulan penuh berkah, bulan dimana seluruh umat muslim didunia merayakannya, segala amal kebaikan akan dilipatgandakan.
Tapi tahukah kamu! Jika Dibulan ramadhan tersebut ada tiga wakil Indonesia yang mengikuti ajang kecantikan dunia bertepatan dibulan ramadhan.
1. Miss Universe 2009
Miss Universe 2009 diadakan dinegara Bahamas, dan malam finalnya berlangsung 23 Agustus 2009. Tiga hari sebelum malam final, umat muslim diseluruh dunia sedang melaksanakan ibadah puasa dibulan ramadhan 20 Agustus dan Lebaran 20 September 2009.
Indonesia saat itu diwakili Zivana Letisha Siregar, Puteri Indonesia 2008. Kegiatan yang paling seru ada sistem voting untuk mendapatkan gelar spesial award sebagai Best Popularity.
Dengan sistem jaringan internet yang saat itu belum semudah seperti sekarang, banyak harapan yang diinginkan pageants lover Indonesia pertama kali masuk dalam jajaran top semifinalis, melalui jalur voting.
Dari subuh menjelang sahur, voting Indonesia unggul diposisi pertama, walaupun menang sayangnya Indonesia belum berhasil masuk dalam jajaran top semifinalis Miss Universe 2009.
Selain Zivana Letisha Siregar dari alumni Puteri Indonesia yang mengikuti Miss Universe memasuki bulan Ramadhan, ada 2 lagi alumni Puteri Indonesia yang mengikuti kompetisi bertepatan dibulan ramadhan yaitu Qory Sandioriva Puteri Indonesia 2009 di Miss Universe 2010 dan Ayu Maulida Putri Puteri Indonesia 2020 di Miss Universe 2021.https://bit.ly/37gguk1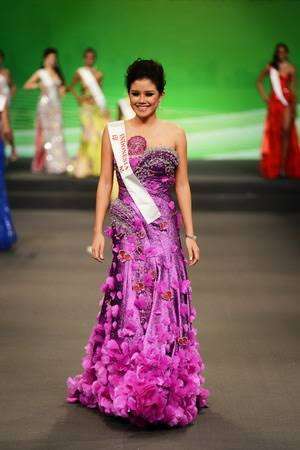 2. Miss World 2012
Miss World 2012 adalah edisi Miss World yang ke-62. Kontes ini diadakan di Dongsheng Fitness Center Stadium, Ordos, Mongolia Dalam, Tiongkok pada tanggal 18 Agustus 2012.
Terpilih sebagai pemenangnya adalah Wenxia Yu Miss World asal negara Tiongkok, sedangkan Indonesia diwakili Ines Putri Miss Indonesia 2012.
Keseruan terjadi saat berlangsungnya malam final Miss World pada tanggal 18 Agustus 2012. Uniknya lagi pada tanggal tersebut adalah hari terakhir umat muslim diseluruh dunia menjalankan ibadah puasa ramadhan dan awal 1 Syawal 1433 yang bertepatan dengan Hari Raya Idul Fitri dilaksanakan serentak pada Minggu, 19 Agustus 2012.
Satu hari sebelum merayakan lebaran, kabar gembira datang dari Miss World. Indonesia berhasil masuk dalam jajaran top semifinalis sebagai Top 15.
Ini adalah prestasi kedua Indonesia berhasil masuk Top 15, satu tahun sebelumnya Indonesia berhasil masuk Top 15 di Miss World 2011 melalui Astrid Ellena.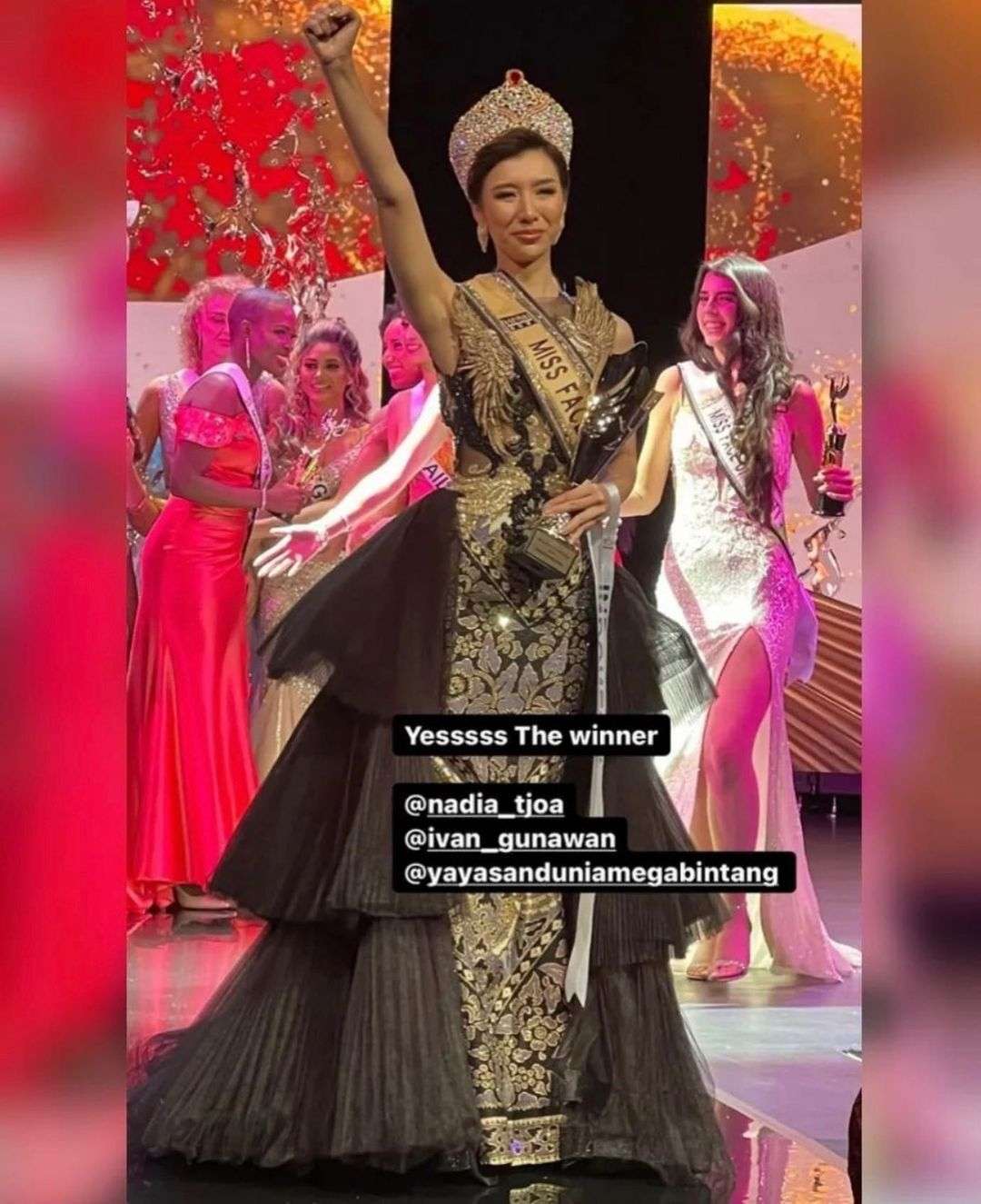 3. Miss Face of Humanity 2022
Nadia Ingrida Tjuatja, yang lebih dikenal sebagai Nadia Tjoa adalah wakil Indonesia diajang perdana Miss Face of Humanity yang diselenggarakan di Toronto, Canada.
Ia ditunjuk oleh Yayasan Dunia Mega Bintang sebagai Miss Face of Humanity Indonesia 2021 dan dimana Nadia pernah menjadi bagian Top 5 Miss Grand Indonesia 2022 dengan mendapatkan gelar sebagai Miss Glowing Skin.
Alumni Universitas Bina Nusantara (2012-2016) dengan tinggi 175cm. Bukanlah sosok yang baru dalam dunia beauty pageants.
Sebelum mengikuti Miss Face of Humanity 2022. Pada tahun 2017 dibawah naungan Yayasan Eljohn Pageants, Nadia pernah mengikuti ajang Miss Chinese World 2017 yang diadakan di Malaysia, sayang ia belum berhasil masuk Top semifinalis.
Bangkit kembali sebagai veteran pageants, 6 tahun kemudian Nadia Tjoa kembali mengikuti ajang Miss Face of Humanity 2022 yang diadakan 2 April 2022 waktu Kanada.
Di Indonesia malam final, jatuh tanggal 3 April, bertepatan dengan awal puasa ramadhan.
Kegembiraan pageants lover Indonesia terbayarkan dengan prestasi yang diraih Nadia dengan hasil yang sangat membanggakan sebagai juara pertama.
Selain itu Nadia juga meraih 2 spesial awards Best Speech (Love of Humanity) dan Best Multimedia.
Menyisihkan 16 peserta dari seluruh dunia. Nadia berhasil memukau dewan juri dengan jawaban di Top 4 mengenai krisis perperangan antara Ukrine dan Russia.
"I think that human live matter more than any material in the world. I stand with Ukrine! I stand with human rights!"
Dengan kemenangannya, Nadia Tjoa akan menetap selama 2 bulan di Kanada dan ada kunjungan ke Mexico selanjutnya.
Penulis : Irwans