Royalize International Event Management kembali menyelenggarakan kontes kecantikan Nona Singapura 2020 diikuti puluhan peserta dari dua negara Singapura dan Indonesia. Kontes kecantikan ini diselenggarakan 16 Februari 2020 di Hotel Novotel D Pelangi Ballroom, Singapura.
Nona Singapura pertama kali diadakan tahun 2016 dan pemenangnya adalah Alya Alyas. Memasuki tahun 2020 Nona Singapura kembali diadakan namun bukan hanya warga negara Singapura saja yang boleh ikut, namun warga negara Indonesia yang berada di Singapura juga bisa berpartisipasi.
Adapun kategori yang diperebutkan, kategori dewasa yaitu Nona Singapura, Nona Indonesia dan The Nona. Kategori remaja dan anak-anak yaitu Teens Nona Singapura, Nona Singapura Kids A dan B, Nona Peranakan Singapura Kids, Nona Indonesia Kids, Nona Peranakan Singapura Kids dan spesial make-up artist Competition.
Dengan percaya diri seluruh kontestan menampilkan bakat mereka menari dan catwalk, memasuki sesi Question & Answer tampil dengan busana khas negara masing-masing mulai, kontestan dari Singapura memakai busana khas Melayu dan kontestan dari Indonesia memakai busana Kebaya.
Penampilan kontestan dinilai oleh dewan juri profesional dibidangnya masing-masing yaitu untuk kategori beauty pageants ada Ms Alya Alyas (The Nona Winner 2016), Princess Ashita Abu (ReDiva Radiant La Femme),Ms Lina, Ms Rashidah, Ms Aura Sheena, Ms Azma Wati, Ms Hazlynn, Mr Hizam, Ms Dyah Novita Eka (Indonesia) dan Mr Irwansyah (Indonesia). Untuk kategori make-up artist Competition yaitu Ms Rozie Klasaboer, Mr Faiz, Ms Lina and Ms Dyah Novita Eka (Indonesia).
Kerennya lagi selain pemenang diberbagai kategori ada juga kategori bergengsi Grand Winner The Nona 2020 dimenangkan wakil Indonesia Sri Dewi Kasmani. Berikut daftar lengkap pemenang Nona Singapura 2020.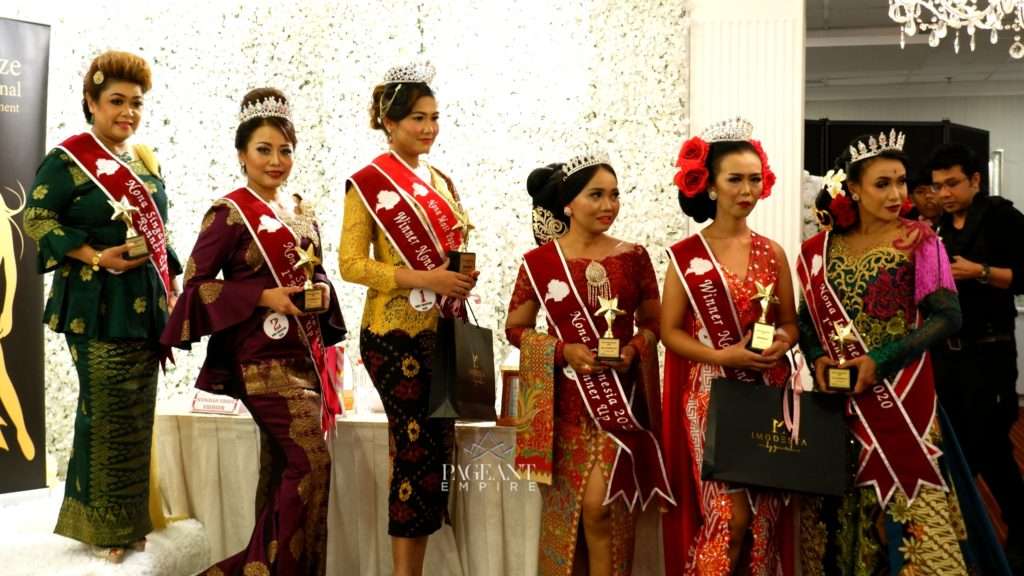 Sri Dewi Kasmani – The Nona 2020
Netty Ryanie – Nona Singapura 2020
Shohifatul Lisa – Nona Indonesia 2020
Fyrza Nur Affifah – Nona Singapura 2020 (Teens Category)
Angelia Diana – Nona Singapura 2020 (Kids Category A)
Sharifa Nur Qistyna – Nona Singapura 2020 (Kids Category B)
Gisele Chiam Xinxuan – Nona Peranakan Singapura 2020 (Kids Category)
Qaseh Sa'adiah – Nona Indonesia 2020 (Kids Category)
Haryani Binte Idris – Make-up winner for Sanggul Lintang and Songket 2020
Diadakannya Nona Singapura 2020 adalah ingin mencari Nona yang bukan saja cantik dari fisiknya, mereka juga harus memiliki keterampilan dalam menari dan catwalk, dan dapat diaplikasikan di kehidupan masing masing. Kontes Nona Singpura ini juga bertujuan untuk mempertahankan tradisi kebudayaan Melayu seperti songket dan sanggul lintang, agar tradisi Melayu tersebut tidak hilang didunia, dengan masuknya beragam kebudayaan dari luar.
Penulis : Irwans