Pagelaran Pemilihan Puteri Indonesia 2020 sudah selesai dengan terpilihnya Ayu Maulida perwakilan Jawa Timur sebagai juara pertama. Dengan demikian lebaran pageants sudah selesai dan perwakilan Indonesia tersebut bersiap menjalani tugas sehari-hari dan persiapan menuju karantina Miss Universe 2020.
Di Indonesia sendiri ada 3 ajang beauty pageants terbesar dengan mengunakan sash propinsi yaitu Puteri Indonesia, Miss Indonesia dan Putri Pariwisata Indonesia. Dengan demikian siapa ya kira-kira propinsi terbaik yang terpilih sebagai Propinsi Of The Year 2019-2020 dengan akumulasi perhitungan, juara pertama dengan nilai 100 point, runner up 70 point dan semifinalis 50 point.
Berikut daftar lengkap malam final Puteri Indonesia 2020, Miss Indonesia 2020 dan Putri Pariwisata Indonesia 2019.
Puteri Indonesia 2020
Puteri Indonesia 2020 Ayu Maulida (Jawa Timur)
Puteri Indonesia Lingkungan 2020 Putu Ayu Saraswati (Bali)
Puteri Indonesia Pariwisata 2020 Jihane Almira (Jawa Tengah)
6 Besar
Runner-up 3 – Louise Kalista Iskandar (Sumatera Barat)
Runner-up 4 – Angel Virginia Boelan (Nusa Tenggara Timur)
Runner-up 5 – Yoan Clara Teken (Maluku)
11 Besar
Sulawesi Selatan – Karina Pricilla Widjaja
Sumatera Utara – Maria Meghna Sharma
Papua Barat – Hivanly Salawena Leha
Kalimantan Barat – Catherine Labouré Olivia Putri Leanartha
Kalimantan Timur – Dianissa Scheherazade Rachman
Miss Indonesia 2020
Miss Indonesia 2020 – Pricilia Carla Yules (Sulawesi Selatan)
Runner-up 1 – Christella Fenisianti (Bangka Belitung)
Runner-up 2 – Tenga Araminta Nadia Riwu Kaho (Nusa Tenggara Timur)
Runner-up 3 – Larissa Amelinda SoeryanaRunner (Jambi)
Runner-up 4 – Salma Dhiya Effendi (Sumatra Utara)
16 Besar
Aceh – Arifia Maulida
Jawa Barat – Ericka Verena Sarboni Japar
Jawa Tengah – Alivia Bunga Kurniawan
Kalimantan Barat – Jennifer Janice Setyawan Halim
Kalimantan Tengah – Lusia Silvana Hermawan
Lampung – Ning Ayu Suwenda Aisyah
Maluku Utara – Prilly Tamara
NTB – Audrey Formoza
Sulawesi Tengah – Nathalia Hosiana
Sulawesi Utara – Gabrielle Valencia
Sumatra Selatan – Caesaria Ayu Ramadhani
Putri Pariwisata Indonesia 2019
Putri Pariwisata Indonesia 2019/Miss Tourism Indonesia 2019: Mawar Salem (Nusa Tenggara Timur)
1st runner up / Miss Culinary Tourism Indonesia 2019: Jeni Rahmadial Fitri (Riau)
2nd runner up / Miss Marine Tourism Indonesia 2019: Yasmin Oktavia (Jawa Timur)
3th runner up / Miss Sport Tourism Indonesia 2019: Pradita Dinar Anggini (DKI 4)
4th runner up / Miss Cultural Tourism Indonesia 2019: Angel Rumihin (Maluku)
10 Besar
DKI Jakarta 1 – Hayatun Nufus
Aceh – Nana Hafiza
Banten – Nadia Indriani Putri
Jambi – Tiffany Anggina Lubis
Bangka Belitung – Devi Septiani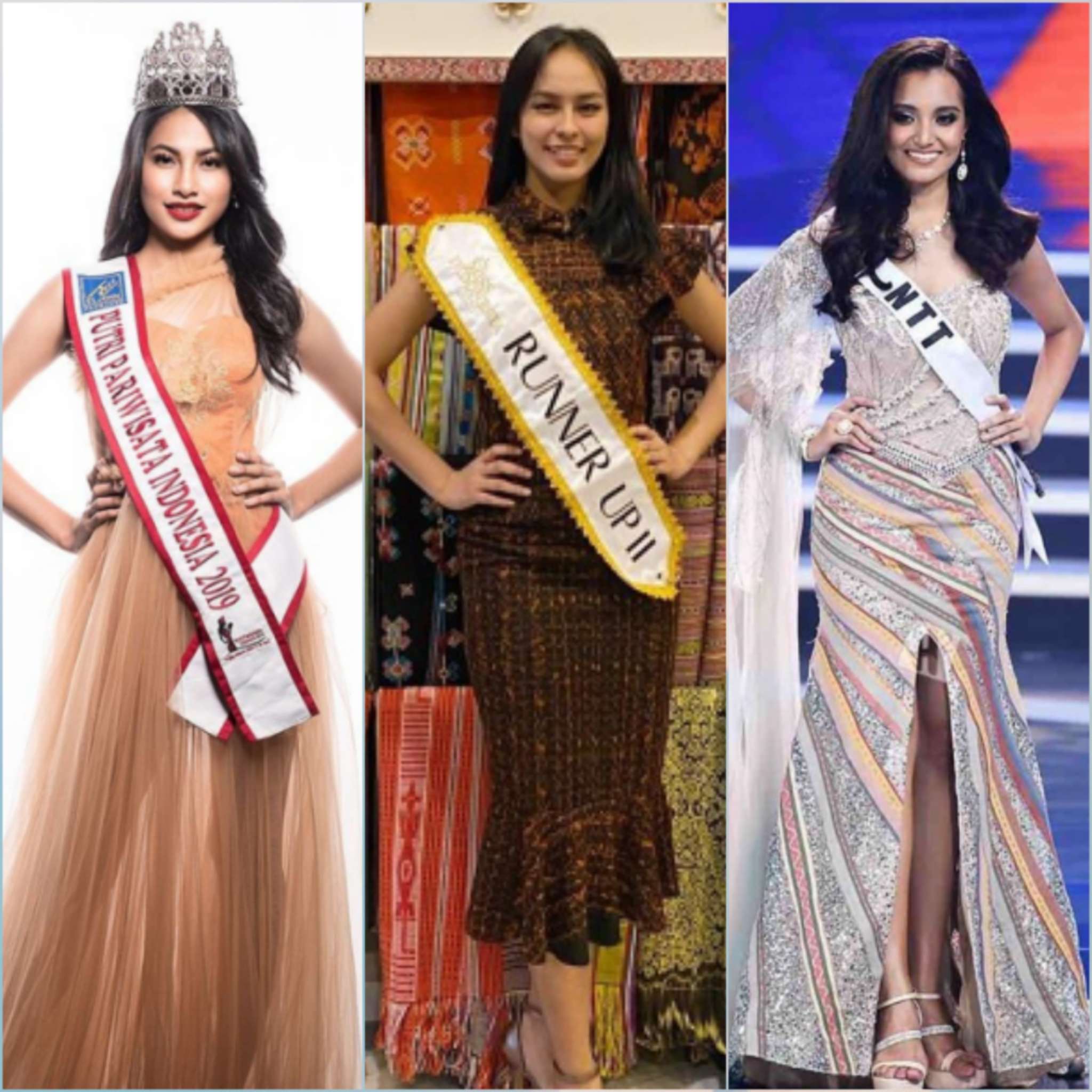 Dan berikut Top 14 Propinsi Of The Year 2019/2020, pemenangnya jatuh kepada propinsi Nusa Tenggara Timur sebagai Propinsi Of The Year 2019/2020
1. Nusa Tenggara Timur = PPI-100, MI-70, PI-70 total = 240
2. Jawa Timur = PI-100, PPI-70 total = 170
3. Sulawesi Selatan = MI-100, PI-50 total = 150
4. Maluku = PI-70, PPI-70 total = 140
5. Bangka Belitung = MI-70, PPI-50 total = 120
6. Jawa Tengah = PI-70, MI-50 total = 120
7. Jambi = MI-70, PPI-50 total = 120
8. Sumatra Utara = MI-70, PPI-50 total = 120
9. Kalimantan Barat = PI-50, MI-50 total = 100
10. Aceh = MI-50, PPI-50 total = 100
11. Riau = PPI-70
12. Sumatera Barat = PI-70
13. Bali = PI-70
14. DKI 4 = PPI-70
Penulis : Irwans