Belum lama ini team Pageantempire berjumpa dengan Artri Aldoranti Sulistyowati Miss Indonesia Earth 2007.
Wanita ramah yang pernah mewakili Indonesia di Miss Earth 2007 diselenggarakan di Filipina. Membagikan seputar dunia pageants dan kehidupannya.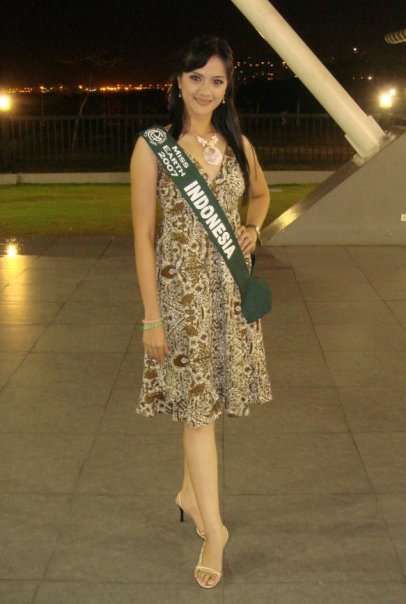 1. Ceritakan sedikit latar belakang Achie dong.
Lahir sebagai anak tunggal dari keluarga militer. Suka olahraga berenang dari kecil. Pernah bercita-cita untuk jadi pramugari dan atlet voli. Hahahaha….Suka belajar bahasa asing juga. Pecinta laut & diving.
Untuk keterlibatan di dunia model & pageants, sebenernya gak pernah sedikitpun terlintas di pikiran untuk terjun ke dunia ini. Tapi ternyata nyemplung juga…Jalanin aja yang sudah digariskan sama Tuhan. hahaha….
2. Gimana dulu bisa tertarik ikut pageant ?
"Entahlah…." – mungkin itu jawaban yang bisa aku kasih….hahaha….I'm totally clueless. Cuma menjalani aja apa yang ada di depan mata. Apalagi dulu aku tipe orang lapangan yang gak pernah perhatiin penampilan, jadi aku sempat punya pemikiran "Apa aku bisa ikut pageant ? Do I have the capability ? Am I that smart ? Do I have the confidence ? Does my body look OK ??", karena sebenernya aku tipe orang yang gak pede.
Tapi seiring berjalannya waktu & dukungan dari orang-orang terutama mereka yang tau aku & kemampuan aku juga….akhirnya aku coba ikut Pemilihan Putri Indonesia – Jatim 2007 dan Alhamdulillah dapat 1st Runner Up & Favorit.
3. Kenapa bisa ikut ajang Miss Earth Indonesia ?
Kalau gak salah waktu itu lagi ada kegiatan dengan peserta Putri Indonesia – Jatim 2007 di Surabaya. Kemudian ada yang tanya "Kak, kenapa gak coba ikut Miss Earth ?" Disitu akhirnya aku mulai cari informasi tentang Miss Earth. Dan setelah berpikir panjang, akhirnya diputuskan untuk mendaftar sebagai peserta Miss Earth Indonesia.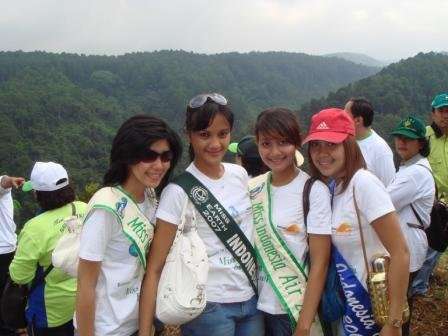 4. Bagaimana proses karantina dan pemilihan di ajang Miss Earth Indonesia?
Proses karantina dilaksanakan di Jakarta & pemilihan di Bali. Waktu pelaksanaan secara keseluruhan memakan waktu sekitar 2-3 minggu. Selama proses karantina di Jakarta, kita diberi banyak materi mengenai lingkungan hidup, table manner, personality development, dll.
Dan di Bali, kita sempat melakukan kunjungan ke penangkaran penyu.
5. Bagaimana dengan persiapan saat ikut ajang nasional dan internasional?
Jujur…untuk persiapan ke ajang internasional waktunya mepet banget. Tapi kita harus tetap professional donk….so I think we were rushing with time…hehehe.
6. Bagaimana situasi saat karantina Miss Earth di Filipina?
CROWDED BUT FUN !!! hahahahaha…….Rame banget dan mereka semua baik. Disana kita dibagi dalam 3 kelompok yang kemudian akan melakukan kegiatan karantina di Negara yang berbeda (Filipina, Vietnam & satu lagi aku lupa Negara mana).
Aku masuk dalam kelompok negara Filipina. Selama karantina kita juga berpindah-pindah lokasinya. Ada banyak kegiatan di setiap lokasi.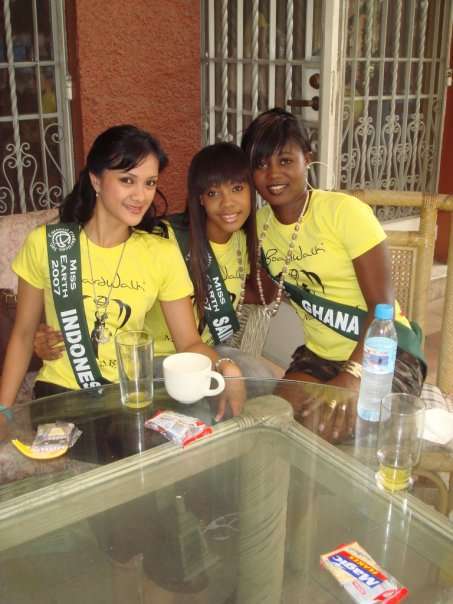 7. Ada cerita menarik saat kompetisi?
Banyak cerita menarik selama kompetisi, tapi 1 hal yang paling berkesan yaitu friendship. Disini kita udah seperti keluarga , saling melindungi tapi tetap berkompetisi secara fair. Karena kekeluargaan ini, sampai sekarang pun kita masih tetap berkomunikasi padahal acara ini sendiri sudah 14 tahun yang lalu. Hahahaha
8. Siapa roommate saat berkompetisi?
Roommate-nya gak pernah sama, karena setiap kita pindah lokasi pasti roommate-nya berubah. Roommate yang masih aku inget itu dari Georgia (Tanja Trobec), Guatemala (Jessica Scheel), Ghana (Diana Blankson), Turks & Caicos (Tammy), St. Lucia (Oneka), US Virgin Island (Je t'aime)
9. Setelah kompetisi, Achie masih contact dengan finalis lainnya?
Masih donk….malah kita punya grup WA sendiri…hahahaa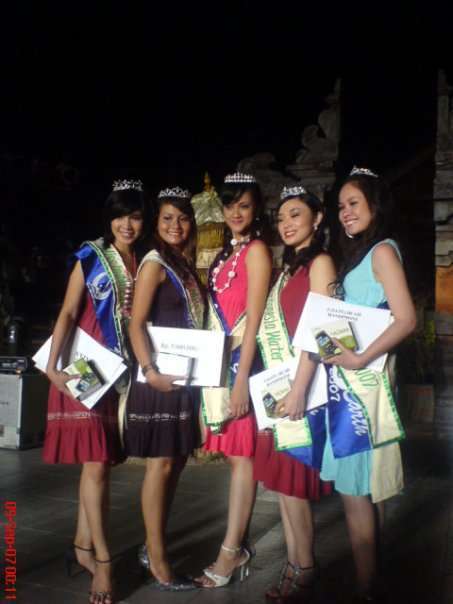 10. Achie sendiri tidak berminat terjun ke dunia hiburan?
Untuk saat ini tidak terlalu berminat…hehehe…lebih suka dibelakang layar aja.
11. Menurut Achie, mengapa sampai saat ini Indonesia belum pernah place di ajang Miss Earth?
Apa saran Achie supaya kita bisa paling tidak pecah telor di ajang ini?
Secara tidak langsung sebenernya semua itu ada campur tangan Tuhan. Meskipun kita sudah berusaha dengan amat sangat keras tapi kalo Tuhan bilang belum waktunya ya mau gimana lagi.
Jadi kalau ditanya kenapa sampai sekarang Indonesia belum pernah placed in TOP 15, jawabannya hanya Tuhan yang tahu…Karena sejujurnya, menurutku para peserta dari Indonesia itu sudah highly qualified untuk kompetisi ini.
12. Ada penyesalan gak ikut pageant?
NEVER !!! Tidak pernah ada kata penyesalan pernah ikut pageant. Paling penyesalannya karena gak bisa menang…hahahaha….Aku dapat banyak hal-hal positif selama mengikuti pageant, entah itu waktu ikut di Putri Indonesia – Jatim 2007 maupun waktu Miss Earth 2007. Semuanya memberi dampak positif.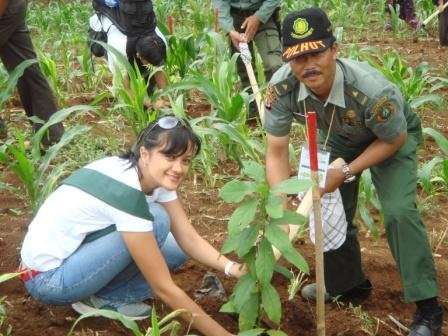 13. Saat ini, apa saja kegiatan Achie?
Untuk saat ini kegiatannya sibuk sebagai Ibu Rumah Tangga, mengurus anak dan juga sebagai guru di Yoga Tulang Belakang.
14. Terakhir, ada yang mau disampaikan Achie sebelum kita tutup interview ini?
Aku berharap semoga dunia pageant kita semakin maju. Semakin lebih baik lagi.
Penulis : Lauw