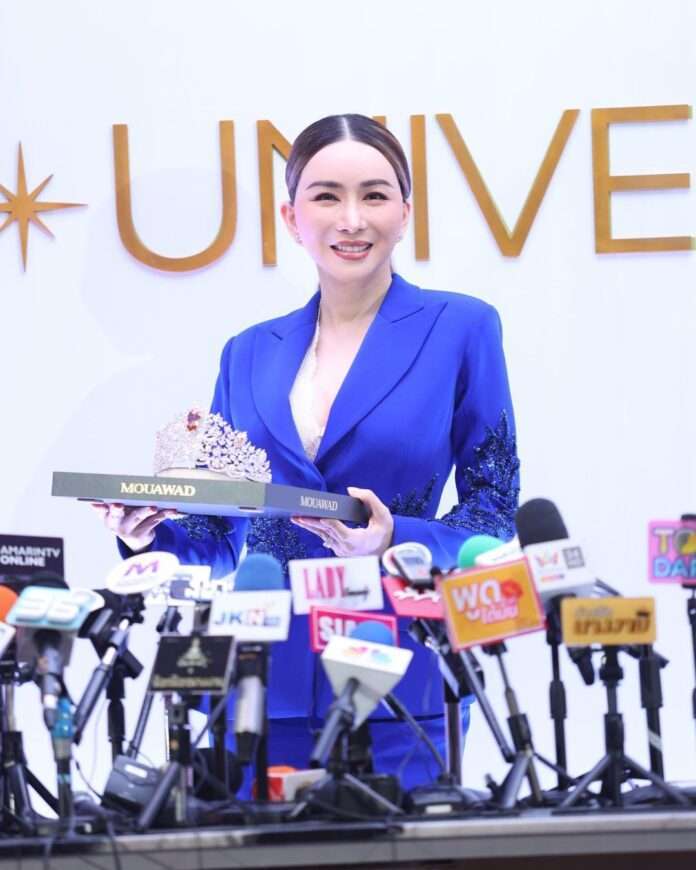 Baru-baru ini dunia pageants digemparkan dengan pengumuman pemilik baru Miss Universe dari Thailand yaitu Anne Jakkaphong Jakrajutatip. Dia adalah seorang pengusaha transgender Thailand dan Chief Executive Officer JKN Global Group Public Company Limited . Dia mendirikan Life Inspired For Transsexual Foundation (LIFT) untuk mengadvokasi hak atas martabat dan kesempatan bagi orang-orang transgender. Jakrajutatip juga dikenal sebagai Anne JKN. Dia menyelesaikan gelar sarjana hubungan internasional di Bond University , Australia . Ia memperoleh sertifikat Pengembangan Real Estat dari Universitas Chulalongkorn , Bangkok dan menyelesaikan Program Akreditasi Direktur (DAP) dari Thai Institute of Directors Association pada 2016.
Dalam sektor usahanya JKN berkembang dan memegang hak distribusi film-film dan program-program televisi di Thailand seperti Walt Disney Co, CBS Corp dan Sony Corp. Selain kerja sama tersebut, JKN juga telah telah menandatangani kontrak dengan CNBC untuk penyiaran selama beberapa tahun ke depan.
Pada tanggal 27 Oktober 2022 bertempat di JKN Empire Building, Bangkok Thailand Anne didampingi oleh Fred Mouaward beserta Paula Shugart & Amy Emmerich secara Zoom Live mengadakan pressconference kepemilikan Miss Universe "JKN presents Miss Universe's The Evolution of The Universe".
"Kami menyediakan saluran bagi perempuan untuk berbagi cerita mereka dan mendorong perubahan positif bagi diri mereka sendiri serta masyarakat, melayani sebagai pemimpin, panutan, dan inspirasi berharga bagi orang-orang di seluruh dunia" tegas Anne.
Berikut ringkas informasi yang disampaikan dari pressconference yang digelar antara lain:
1. Tagline "One Universe" menyoroti kesetaraan semua wanita termasuk wanita yang sudah menikah, ibu dan wanita trans ("Percaya diri yang indah" tetap, jangan khawatir!)
2. Miss Universe sedang mencari PEMIMPIN TRANSFORMASI.
3. Thailand akan menjadi tuan rumah setiap 2 tahun sekali untuk mempromosikan pariwisatanya.
4. Kompetisi akan berkualitas tinggi dan produksi besar.
5. Akan ada konferensi pers lagi dengan rincian lebih lanjut bersama dengan beberapa pemegang gelar Miss Universe.
6. Kantor pusat tetap di NYC.
7. Akan ada mahkota baru dari Mouaward untuk edisi 71th Miss Universe
8. Akan disediakan jets dan penthouse untuk pemenang
9. Akan digelar gala event pada November 2022 mendatang untuk penyelenggaraan Miss Universe
Photo by oatspancharut
Penulis : Araz