Manhunt International Indonesia 2019 tinggal beberapa hari lagi akan diselenggarakan 7-9 Desember 2019 di Nogsa, Batam, Kepulauan Riau. Ajang kompetisi pria ini terapiliasi dengan ajang Manhunt International yang dibuat oleh Riski. L Dickinson sebagai pihak penyelenggara sedangkan Indonesia sendiri lisensi internasionalnya dipegang oleh Muhammad Iqmal.
Pemenang Manhunt International Indonesia 2019 secara otomatis akan mewakili Indonesia di Manhunt International 2020 yang diadakan bulan Februari di Manila, Filipina.
Sementara itu pihak penyelenggara juga mengumumkan bahwa format pemilihannya berbeda dengan ajang kompetisi yang lainnya, jika karantina berlangsung seminggu lebih makan di Manhunt International Indonesia 2019 karantina dipersingkat hanya beberapa hari saja dan semua finalis juga mendapatkan title internasional male pageants, ada 14 male pageants internasional yang disediakan.
1. Manhunt International 2019 di bulan Februari 2020 di Manila, Filipina
2. Mister Tourism & Culture Universe 2020 di Myanmar
3. Mister Asian International 2021
4. Mister South East Asia International
5. Mister Ocean
6. Mister Model of the Universe di India Januari 2020
7. Mister Ultracontinental di Ecuador 2020
8. Ambassador of the World di Philippines
9. Runway Model Universe
10. Mister Tourism Globe
11. Mister Elite Asian International
12. Mister Global Man International di Malaysia 2020
13. Mister United World
14. Mister Working Men International
"Karantina sangat berbeda dengan ajang yang lainnya, kami tidak mengumumkan siapa nama pemenangnya tapi semua finalis juga ga mendapatkan title International dan ada 14 lisensi semuanya akan berangkat keajang international tahun depan" ucap Muhammad Iqmal selaku penyelenggara.
Manhunt International Indonesia 2019 mengangkat tema "Budaya dan Pariwisata" sehingga setiap finalis mampu mempresentasikan kebudayaan dan pariwisata daerahnya keajang international.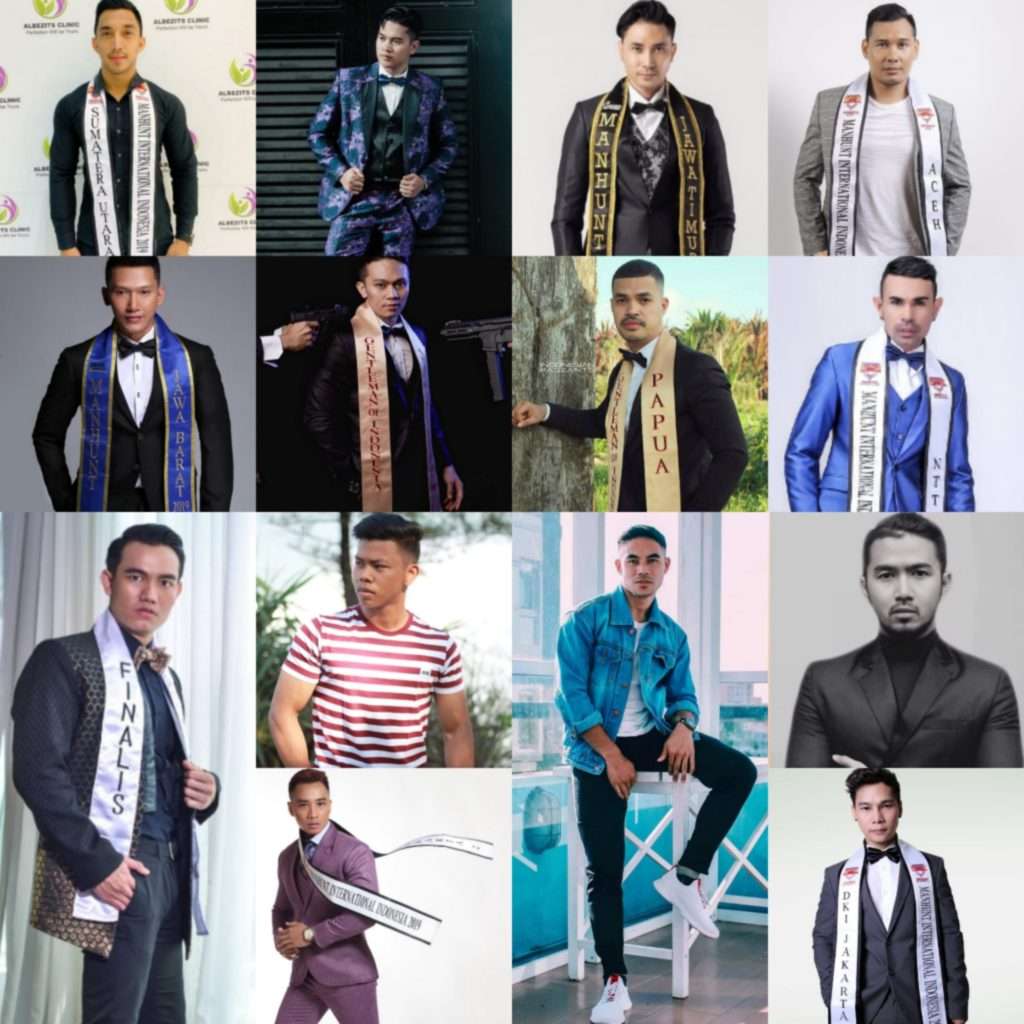 Berikut daftar 14 finalis Manhunt International Indonesia 2019, siapa favorit kalian guys.
1. Aceh : Tommy Anggara Poetra
2. Sumatera Utara : Teuku Saiful Anwar
3. Sumatera Selatan : Faris Juliansyah
4. Bengkulu : Diantoro
5. Lampung : Robert Purnomo
6. DKI Jakarta 1 : Hienjam Torres
7. DKI Jakarta 2 : Agoez Gademan
8. D. I. Yogyakarta : Ayub Imanullah
9. Jawa Barat : Ferdyrain
10. Jawa Timur : Elardy Tan
11. Sulawesi Utara : Agung Yewiyanan
12. Sulawesi Selatan : Andi Asbar
13. Nusa Tenggara Timur : James Radar
14. Papua : Rey Sulipatty
Kalian juga bisa memberikan voting dukungan dengan memvoting finalis favorit kalian diwebsite Manhunt International Indonesia.
Penulis : Irwans