The New L-Men of The Year 2020 yang seleksinya dimulai dari bulan Januari sampai saat ini sudah memasuki babak yang semakin ketat dari Top 50 hingga terpilih 15 Grand Finalists yang memiliki Background inspiratif serta profesi yang gak main-main nih.
Setelah melewati masa seleksi yang cukup ketat akhirnya pihak L-Men merilis 15 nama dari berbagai provinsi di Indonesia yang siap menunjukan kemampuannya sebagai influenser gaya hidup sehat.
Gaya hidup sehat yang akan ditunjukan bukan hanya dari 1 bidang profesi namun mereka datang dari berbagai latar belakang dan profesi yang berbeda-beda.
Dari mulai atlit, mahasiswa , pengusaha, karyawan hingga PNS siap unjuk gigi meramaikan gelaran The New L-Men of The Year 2020.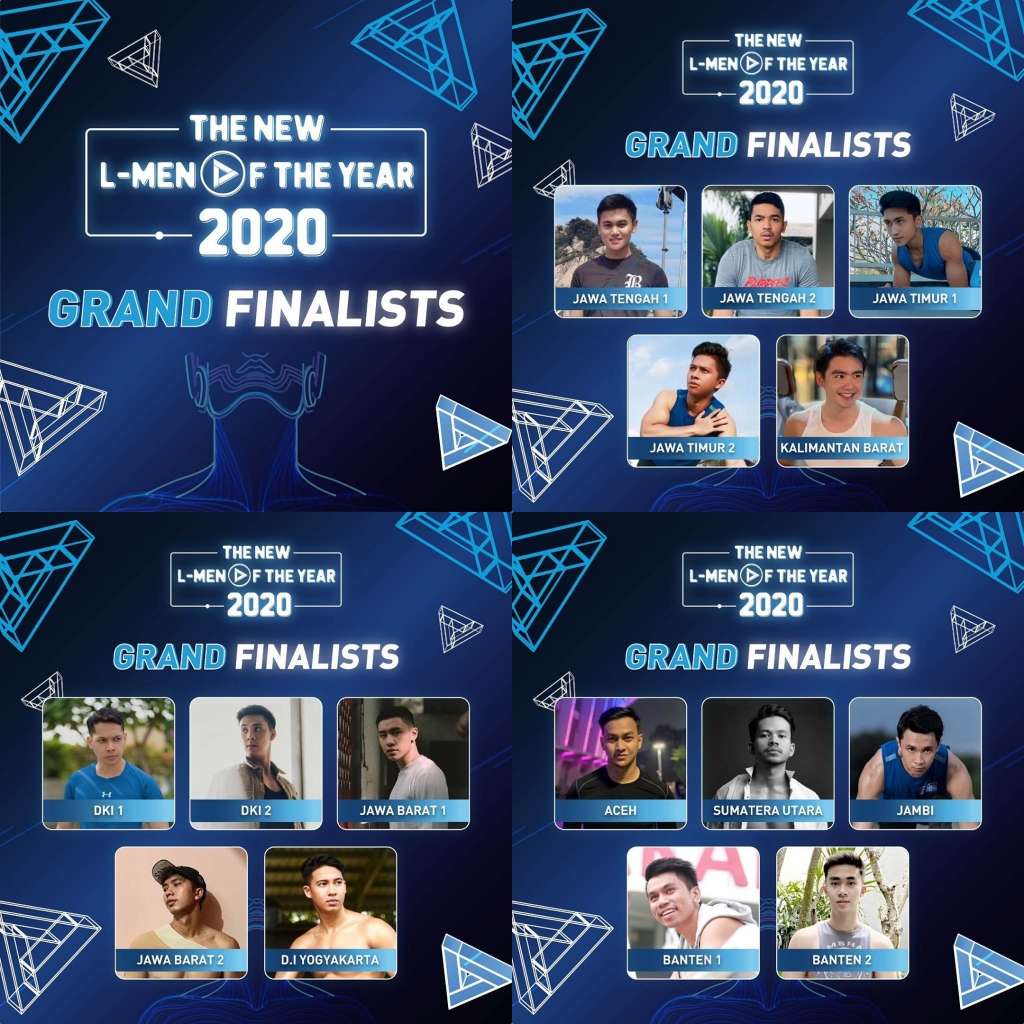 Berikut 15 Grand Finalists The New L-Men of The Year 2020.
1. Oki Alparessi – Sumatera Utara (Dosen)
2. Kevin Twindicha – Jambi (Tax Officer Kementerian Keuangan Dirjen Pajak Provinsi Jambi)
3. Ario Agung – DKI Jakarta (Dokter)
4. Reggie Natanael – Jawa Barat (DJ)
5. Goldi Senna – Jawa Timur (Produser)
6. Bintang Suryo Negoro – Jawa Tengah (Guru ESL)
7. Andrew Setiawan – Kalimantan Barat (Mahasiswa Teknologi Pangan)
8. Raden Mas Denny Nursandy – DI Yogyakarta (Entrepreneur)
9. Agust Bagia Hasiholan – Banten ( Pegawai Kementerian Keuangan Republik Indonesia, bagian Bea Cukai)
10. Richard Permadi – DKI Jakarta 2 (Digital Marketing )
11. Muhammad Fadhil Achyari – Aceh (Economic Resilience Analyst di Kementerian Dalam Negeri)
12. Muhammad Wilman Nugraha – Jawa Barat 2 (Atlit Voli)
13. Firas Yodha Saskara – Jawa Tengah 2 (Mahasiswa Teknik Kimia)
14. Muhammad Iqbal Darmawan – Jawa Timur 2 (Mahasiswa Magister Marketing Communication)
15. Joey Holly – Banten 2 (Mahasiswa jurusanBranding)
Para Grand Finalists The New L-Men of The Year 2020 tidak hanya akan menjadi influenser gaya hidup sehat dan memperebutkan gelar Winner LOTY 2020 , namun pihak L-Men sebagai pemegang lisensi beberapa kontes Male Pagents berhak menunjuk salah satu diantara mereka menjadi wakil Indonesia diajang Mister Wold, Mister Supranational dan Mister International.
Kira-kira siapa nih diantara mereka yang akan menjadi the next LOTY 2020 dan maju mewakili Indonesia untuk ajang besar Male Pageants tersebut? Just wait and see ya.
Penulis : Araz