Gaun paling banyak ditiru? Salah satu gaun paling ikonik sepanjang masa di ajang Miss Universe adalah yang dipakai Miss Puerto Rico Zuleyka Rivera di ajang Miss Universe 2006.
Gaun spektakuler rancangan disainer Puerto Rico Carlos Alberto Otero Brunet yang memiliki potongan rantai seberat 30 pounds (14 kilograms) ini telah ditiru berkali-kali.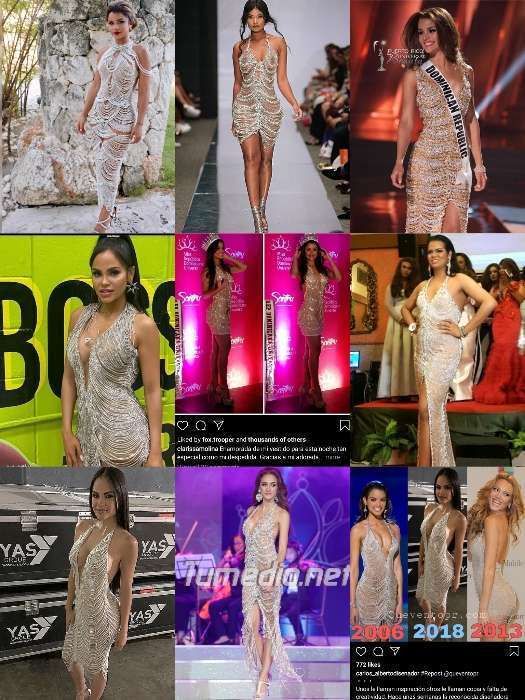 Miss Dominican Republic 2015 Clarissa Molina terlihat beberapa kali mengenakan gaun dengan disain mirip hasil rancangan disainer lain.
Kandidat Miss Dominican Republic 2016 juga terlihat mengenakan disain gaun yang serupa.
Pada 2018 penyanyi asal Dominican Republic Natti Natasha juga pernah memakai gaun yang terlihat sangat mirip dengan punya Zuleyka yang dirancang oleh designer asal negaranya Giannina Azar.
Pada tahun 2013 Zuleyka sendiri pernah mengenakan gaun rancangan Carlos Alberto versi pendek pada acara Premio Lo Nuestro. Gaun baru yang sengaja dibuat mirip dengan gaun yang Zuleyka kenakan di Miss Universe 2006 ini bertabur Swarovski dengan estimasi harga $5000.
Carlos Alberto "Designer of the Queens" sendiri mendapat penghargaan dari pemerintah Puerto Rico. Lourdes Ramos, Vice President of the House of Representatives mengatakan bahwa Carlos Alberto adalah disainer sekaligus guru yang telah memberikan kontribusi kreatif yang intens bagi Puerto Rico dan Ia telah menetapkan standar dalam industri disai dan mode yang menjadikan Puerto Rico dikenal akan bakatnya dan telah mendapatkan reputasi internasional.
Sebagai disainer Haute Couture, karya Carlos Alberto memiliki ciri khas gaya avant-garde yang menonjolkan feminitas dan sensualitas, di mana keanggunan dan pengaruh klasik memberikan peningkatan ciri khusus pada karyanya.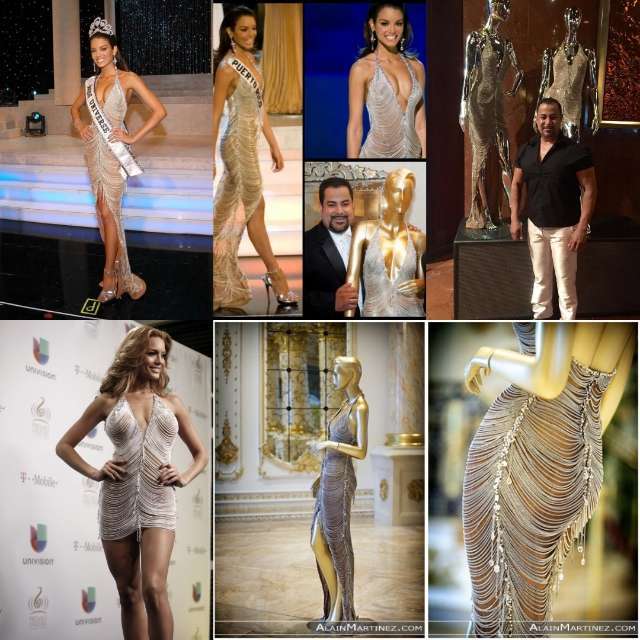 Carlos Alberto adalah orang Puerto Rico dan Latino pertama yang menjadi desainer resmi Miss Universe Organisation yang bertanggung jawab atas kostum untuk opening Miss USA 2009 dan Miss Universe 2009. Rancangannya juga pernah dikenakan di kontes Miss Puerto Rico Universe, Miss Texas Teen, Miss Texas USA, Miss Tennessee USA, Miss British Virgin Islands, dan lainnya. Ia juga peracang gaun final untuk Stephanie del Valle Miss World 2016 dan para wakil Puerto Rico lainnya di ajang kecantikan dunia.
Penulis : Adit