Selasa, 4 Agustus 2020 12 Putra Putri terbaik dari Nusa Tenggara Barat dari Sanggar Seni Mahardika berkunjung kekantor Pendopo Gubernur Nusa Tenggara Barat.
Sesampainya disana mereka disambut dengan hangat oleh Hj. Niken Saptarini Widyawati Zulkieflimansyah selaku Ketua TP-PKK yang juga selaku Ketua Umum Dekranasda Provinsi NTB, sangat mengapresiasi dan mendukung Sanggar Seni Mahardika dalam ajang Asian International Festival yang akan diselenggarakan akhir 2020 ini.
Untuk itu mereka diminta mempersiapkan diri dan terus belajar. "Insya Allah semua bisa bersaing, tapi harus tetap belajar dan mengasah diri," tutur Hj. Niken di Pendopo Gubernur.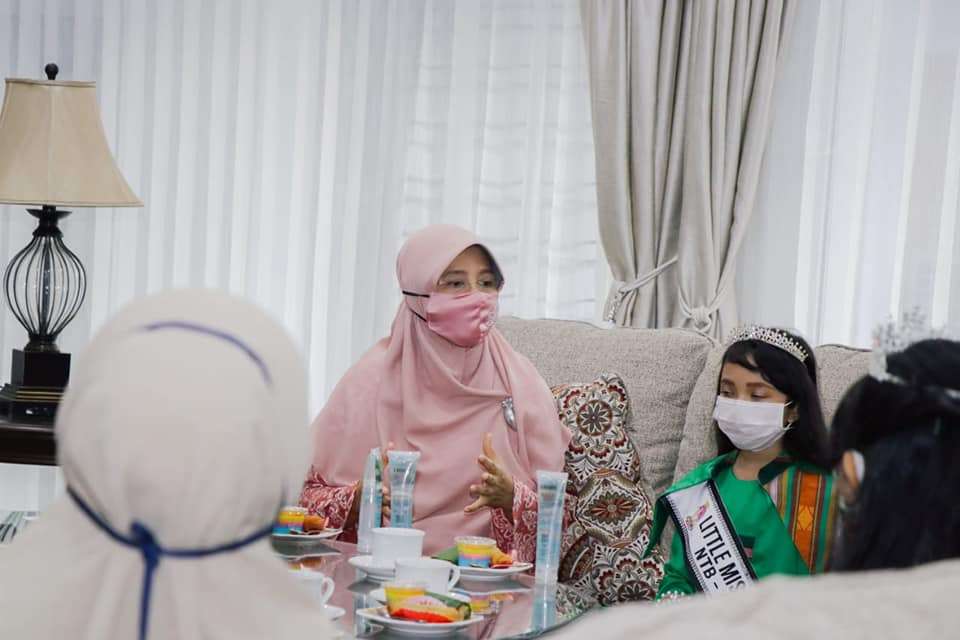 Pada kesempatan ini pula, Hj. Niken mengatakan kepada para seniman muda inspiratif tersebut untuk memahami masalah kesehatan Covid-19 yang jadi pembicaraan seluruh dunia. Sehingga diharapkan para seniman muda inspiratif tetap menerapkan protokol kesehatan Covid-19 pada saat kegiatan tersebut berlangsung. Dan juga memberikan dukungan moril dan akan membantu para seniman muda inspiratif ini untuk mengepakkan sayapnya di kancah internasional, semoga sukses.
I Gusti Nyoman Ardhika Putra selaku mentor dari Sanggar Seni Mahardika ini berharap mendapatkan dukungan baik secara moril dan material serta dukungan dari Pemerintah Provinsi Nusa Tenggara Barat.
"Semua anak-anak ini akan mengikuti ajang tersebut dan kita akan mewakili Indonesia pada ajang tersebut," tutupnya.
12 anak Nusa Tenggara Barat yang berprestasi ini nantinya akan mengikuti Asian International Festival yang diadakan di Thailand dan Malaysia di dalamnya ada ajang Miss Asian International, Miss South East Asia Internasional, Mister Pre-teen Pasific World, dan Asian Pasific Prince and Princes. Dimana lisensi internasional tersebut semuanya dipegang oleh Dokter Muhammad Iqmal (Founder Manhunt International Indonesia) dan bekerjasama dengan I Gusti Nyoman Ardhika Putra dari Sanggar Seni Mahardika
Sebanyak 12 anak muda berbakat tersebut nantinya akan mengikuti beberapa ajang sesuai dengan kategorinya masing-masing. Aziz Basangga (Altitude World Supermodel Indonesia Nusa Tenggara Barat 2020) Elisa Apandi (Miss SE Asian International Indonesia 2020) Desilia Ayu Rizky (Miss Asian International Indonesia 2020) Sthiti Dwicahyasni Pura (Miss Teen Globe Indonesia 2020) Agensia Triana Dewi (Miss Teen Junior Idol World Indonesia 2020) Aurha Gangga Putri (Little Miss Asia Pasific Prince and Princes Indonesia 2020) Ratu Asyfa Azelia (Little Miss Junior Idol World Indonesia 2020) Arvest (Little Mister Junior Idol World Indonesia 2020) Ayudia Sitha Mahardika Putri (Mini Miss Junior Idol World Indonesia 2020) I Ketut Surya Pramandita (Mister Pree Teen International Indonesia 2020) Diazy Wardhana dan Eci Devita (King and Queen Icon SSM NTB).
Penulis : Irwans