Hari ini 31 Agustus 2020, menjadi moment bersejarah bagi dunia pageants Indonesia, tepatnya setahun yang lalu 31 Agustus 2019 di Yagoon, Myanmar. Indonesia berhasil meraih juara pertama kontes kecantikan tingkat dunia.
Mengirim dua perwakilannya Nofian Prayogi dan Olivia Gunawan di Miss and Mister Tourism Culture Universe disingkat menjadi TCU, memasuki tahun kedua penyelenggarannya.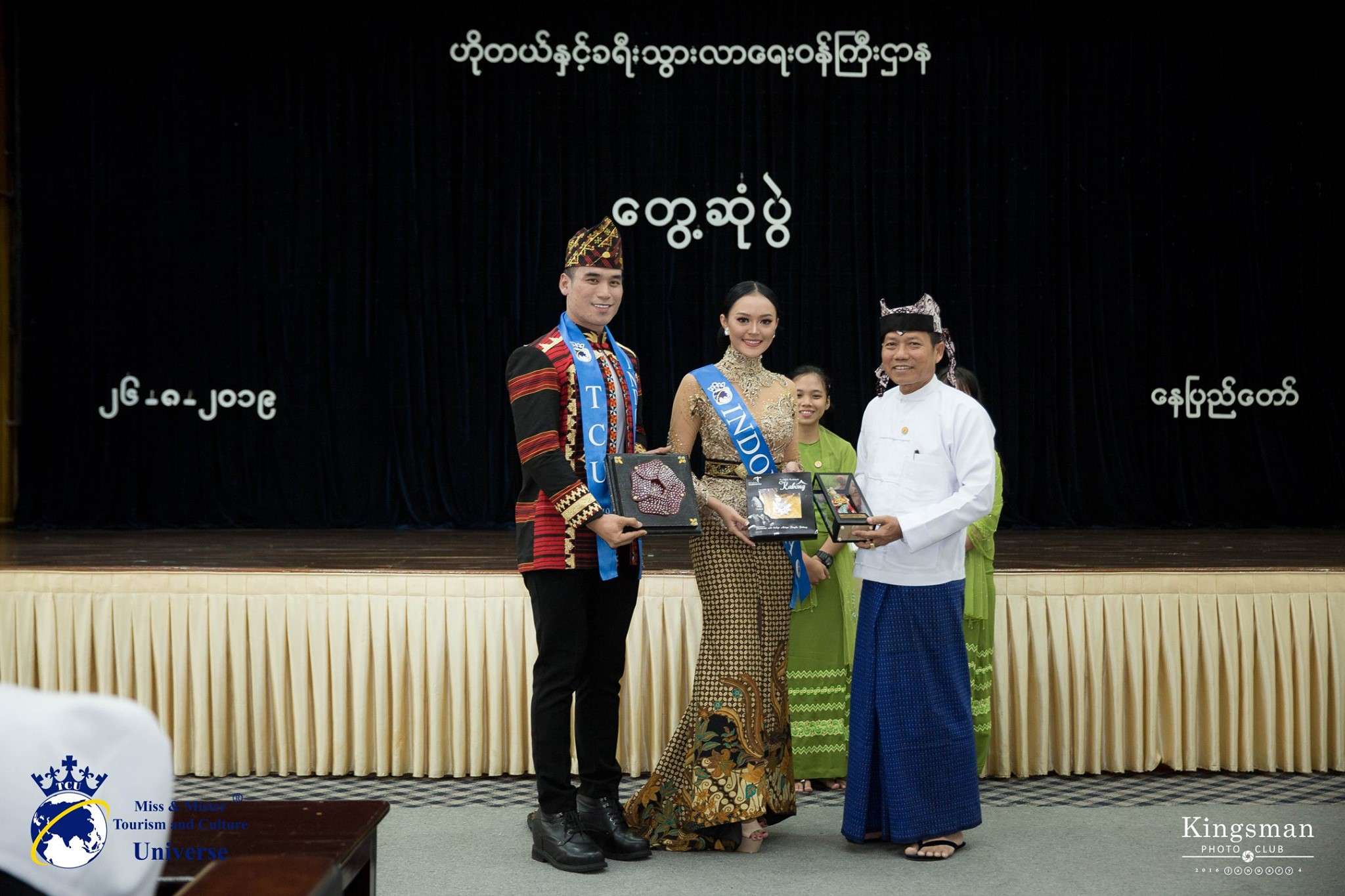 Olivia Gunawan sebelumnya dikenal sebagai finalis Puteri Indonesia Jawa Timur 2018. Pada ajang tersebut dia meraih gelar puteri berbakat. Pantang menyerah setahun kemudian tepatnya dibulan Maret 2019, Olivia mengikuti pemilihan Miss and Mister Model Indonesia 2019 dan livia Gunawan terpilih sebagai Miss Model Indonesia 2019, Olivia pun berhak mewakili Indonesia di kontes kecantikan dunia Miss Tourism Culture & Universe yang diadakan di Myanmar.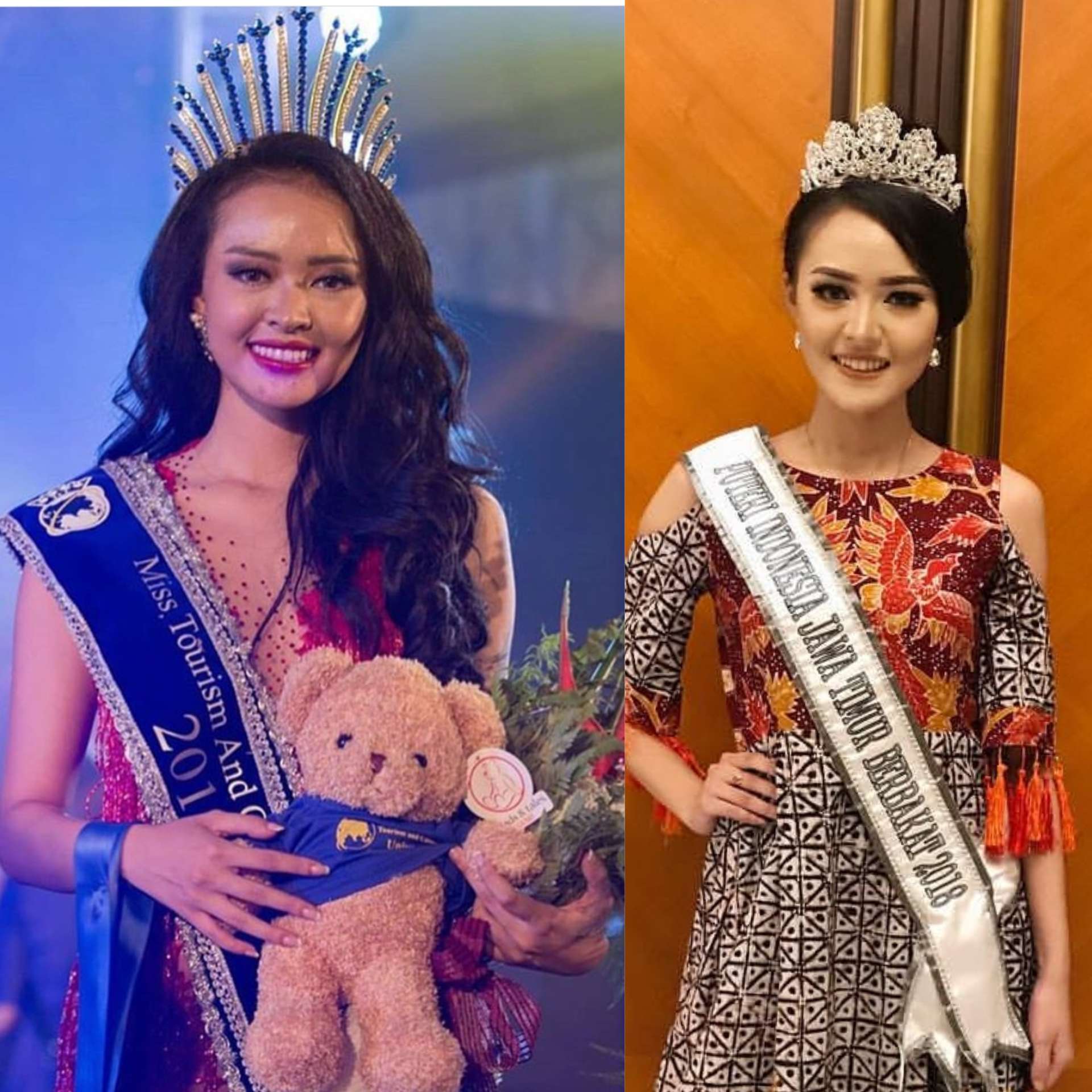 Miss and Mister Tourism Culture Universe 2019 diikuti 20 finalis dari seluruh dunia. Juara kedua atau 1st runner up diraih wakili Filipina Roxanne Baeyens yang sekarang dikenal sebagai Miss Earth Philippines 2020 dan juara ketiga atau 2nd runner up diraih wakil Malaysia, Wenanita Augang.
Selain meraih gelar juara pertama, Olivia Gunawan juga berhasil meraih spesial award lainnya yaitu, Miss Silk &Shine, Best Presentation, Best In Swimsuit dan Best National Costum dengan tema The Fragrance of Dewi Sritanjung. National costume tersebut terinspirasi dari wanita yang menjadi asal – usul lahirnya kota Banyuwangi yaitu Raden Ayu Nimas Srintanjung.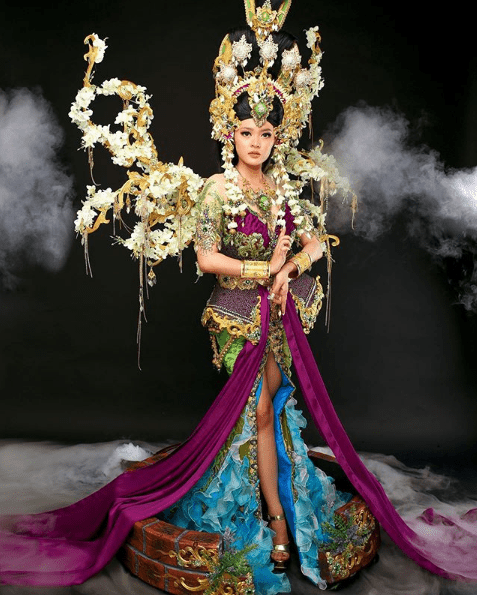 Dalam pernyataannya di Instagram setahun yang lalu usai dinobatkan sebagai juara Miss Tourism and Culture Universe 2019, Olivia mengungkapkan bahwa ini adalah kali pertamanya mengikuti kontes kecantikan internasional. Dia pun sempat merasa tidak percaya diri bisa menjadi pemenang.
"I can't believe in! This is the first time for me to join with international competition and represent my beautiful country Indonesia. Sempat merasa tidak percaya diri karena tidak ada pengalaman di peagent international seperti yang lain berangkat dari kota Banyuwangi untuk mewakili Indonesia Alhamdulilah semua yang dilakukan dengan hati yang ikhlas dibantu dengan keluarga, kerabat sabahat, ini hasil dari kerja keras kita semua dengan adanya ketegangan, takut , sedih kita semua sudah melewatinya. Disini sekali lagi saya ingin mengucapkan beribu ribu terimakasih kepada Orang tua dan keluarga sy, pemerintahan kab Banyuwangi, Disbubpqr Banyuwangi, MM Indonesia org, sahabat" Oliv dibwi maupun diluar banyuwangi. Kakak" desainer yang mensponsori oliv, kakak" mentor yang selalu mambantu oliv, kepada teman" Peagent lovers seluruh Indonesia kepada semuanya maaf oliv tidak bisa membalas satu persatu ucapan dari kalian tapi saya ingin mengucapkan sekali lagi Terimakasih Banyak ??❤️?. And thank u for MMTCU Organization to trust me Olivia Gunawan as Miss Tourism and Culture Universe 2019. .
Indonesia we did it ??❤️"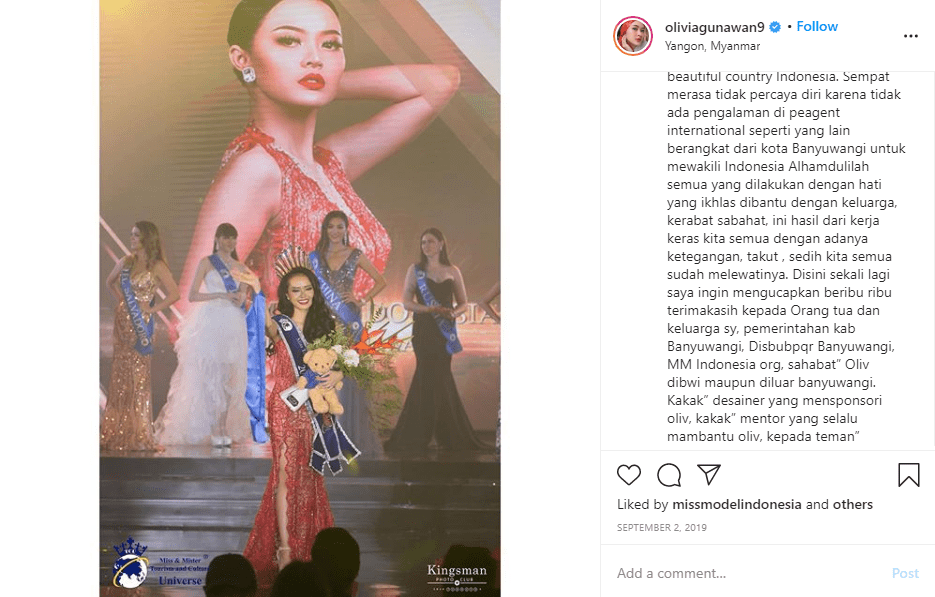 Penulis : Irwans