Sabtu malam (7/11) menjadi babak baru bagi industri perfilman nasional. Ajang festival film tertua di Indonesia yaitu Festival Film Indonesia bersama Komite Festival Film Indonesia (FFI) akhirnya merilis daftar lengkap film peraih nominasi Piala Citra 2020. Dari ratusan film yang diseleksi, baik yang ditayangkan di layar bioskop maupun di layanan streaming karena terkendala pandemi covid19.
Film box office Perempuan Tanah Jahanam keluar sebagai film dengan raihan nominasi terbanyak, yaitu 17 nominasi, termasuk untuk Film Terbaik, Sutradara Terbaik untuk Joko Anwar, dan Skenario Asli Terbaik. Disusul film Susi Susanti: Love All dengan 13 nominasi, Imperfect 11 nominasi, serta The Science of Fictions dan Mudik dengan masing-masing 10 nominasi.
Menariknya, diantara deretan nominasi tersebut ada dua alumni Puteri Indonesia yang berhasil masuk bersamaan dalam kategori Pemeran Utama Perempuan Terbaik.
Mereka adalah Putri Ayudia (Puteri Indonesia DKI 2 2011 dan Top 10 Puteri Indonesia 2011) dan Faradina Mufti (Puteri Indonesia DKI Jakarta 5 2011 dan Top 10 Puteri Indonesia 2011) dalam film Guru-Guru Gokil dan Mudik.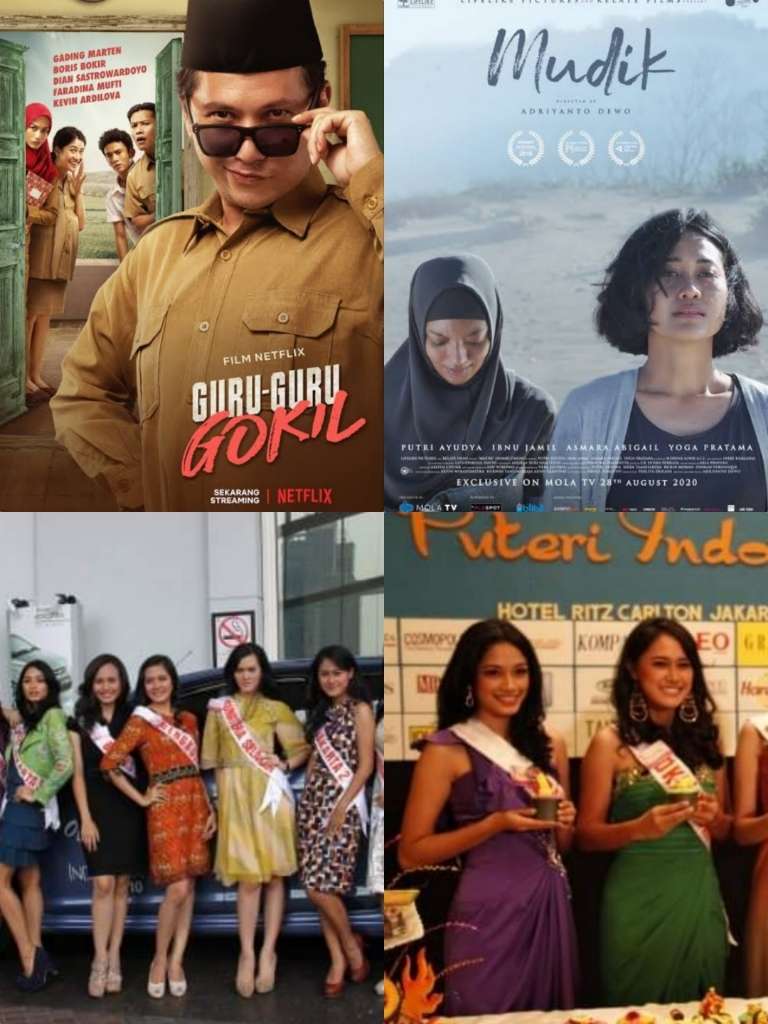 Uniknya lagi keduanya alumni Puteri Indonesia diangkatan yang sama, tahun 2011 dan sama-sama masuk top 10 serta mewakili propinsi DKI. Dan ini menjadi sejarah baru, karena jarang terjadi alumni kontes pageants muncul bersamaan dalam satu kategori nominasi FFI.
Setelah nominasi diumumkan, juri Festival Film Indonesia 2020 akan berunding untuk menentukan siapa pemenang FFI 2020. Malam puncak penganugerahan FFI 2020 akan dilaksanakan seperti tahun lalu yakni pada 5 Desember 2020 kemungkinan akan diadakan virtual online.
Berikut daftar lengkap nominasi Piala Citra FFI 2020:
Film Terbaik
The Science of Fictions
Humba Dreams
Imperfect
Mudik
Perempuan Tanah Jahanam
Susi Susanti: Love All
Sutradara Terbaik
Faozan Rizal – Abracadabra
Joko Anwar – Perempuan Tanah Jahanam
Riri Riza – Humba Dreams
Sim F – Susi Susanti: Love All
Yosep Anggi Noen – The Science of Fictions
Pemeran Utama Perempuan Terbaik
Faradina Mufti – Guru-guru Gokil
Jessica Mila – Imperfect
Laura Basuki – Susi Susanti: Love All
Putri Ayudya – Mudik
Tara Basro – Perempuan Tanah Jahanam
Ully Triani – Humba Dreams
Pemeran Utama Pria Terbaik
Alqusyairi Radjamuda – Mountain Song
Ario Bayu – Perempuan Tanah Jahanam
Dion Wiyoko – Susi Susanti: Love All
Gunawan Maryanto – The Science of Fictions
Ibnu Jamil – Mudik
Reza Rahadian – Abracadabra
Reza Rahadian – Imperfect
Pemeran Pendukung Perempuan Terbaik
Asmara Abigail – Mudik
Asri Welas – Guru-guru Gokil
Christine Hakim – Perempuan Tanah Jahanam
Dewi Irawan – Imperfect
Marissa Anita – Perempuan Tanah Jahanam
Ratna Riantiarno – Love for Sale 2
Ria Irawan – Mekah I'm Coming
Pemeran Pendukung Pria Terbaik
Ade Firman Hakim – Ratu Ilmu Hitam
Butet Kartaredjasa – Abracadabra
Iszur Muchtar – Susi Susanti: Love All
Kiki Narendra – Perempuan Tanah Jahanam
Totos Rasiti – Mekah I'm Coming
Yoga Pratama – Mudik
Yudi Ahmad Tajudin – The Science of Fictions
Skenario Adaptasi Terbaik
Imperfect
Ratu Ilmu Hitam
Skenario Asli Terbaik
Mudik
Perempuan Tanah Jahanam
Humba Dreams
Susi Susanti: Love All
The Science of Fictions
Mountain Song
Sinematografi Terbaik
Humba Dreams
Abracadabra
Perempuan Tanah Jahanam
Mountain Song
Mudik
Susi Susanti: Love All
Artistik Terbaik
The Science of Fictions
Perempuan Tanah Jahanam
Susi Susanti: Love All
Abracadabra
Film Pendek Terbaik
Fitrah
Hai Guys Balik Lagi Sama Gue, Tuhan!
Jemari yang Menari di Atas Luka-luka
Kemanten
Lantun Rakyat
Film Animasi Pendek Terbaik
Handcrafted
Kasat Mata
Nussa Bundaku
Prognosis
Film Dokumenter Panjang Terbaik
Between The Devil and The Deep Blue Sea
You and I
Film Dokumenter Pendek Terbaik
Cerita tentang Sinema di Sudut yang Lain
Cipto Rupo
Dulhaji Dolena
Golek Garwo
Ibu Bumi
Efek Visual Terbaik
Perempuan Tanah Jahanam
Ratu Ilmu Hitam
Abracadabra
Mangkujiwo
Susi Susanti: Love All
Sebelum Iblis Menjemput Ayat 2
Habibie & Ainun 3
Penyunting Gambar Terbaik
Mekah I'm Coming
The Science of Fictions
Mudik
Ratu Ilmu Hitam
Perempuan Tanah Jahanam
Imperfect
Penata Busana Terbaik
Si Manis Jembatan Ancol
Imperfect
Abracadabra
The Science of Fictions
Perempuan Tanah Jahanam
Guru-guru Gokil
Susi Susanti: Love All
Penata Rias Terbaik
Habibie & Ainun 3
The Science of Fictions
Abracadabra
Susi Susanti: Love All
Perempuan Tanah Jahanam
Imperfect
Ratu Ilmu Hitam
Penata Suara Terbaik
Sebelum Iblis Menjemput Ayat 2
The Science of Fictions
Abracadabra
Mangkujiwo
Perempuan Tanah Jahanam
Susi Susanti: Love All
Imperfect
Penata Musik Terbaik
Susi Susanti: Love All
Perempuan Tanah Jahanam
Humba Dreams
Imperfect
Mudik
Nanti Kita Cerita tentang Hari Ini
Lagu Tema Terbaik
Dari Kita Turun ke Hati – Toko Barang Mantan
Fine Today – Nanti Kita Cerita tentang Hari Ini
Pujaan Hati – Perempuan Tanah Jahanam
Tak Harus Sempurna – Imperfect
Penulis : Irwans