Miss World 2015 adalah edisi ke-65 dari kontes kecantikan Miss World, diselenggarakan di Sanya, Pulau Hainan, Tiongkok pada 19 Desember 2015. Diikuti 114 kontestan, Mireia Lalaguna Royo dari Spanyol terpilih sebagai pemenang dan dimahkotai oleh Miss World 2014, Rolene Strauss dari Afrika Selatan.
Sejak dipegang Miss Indonesia Organization dari tahun 2007, ditahun 2015 Indonesia meraih posisi tertinggi. Indonesia yang diwakili Maria Harfanti meraih posisi 2nd runner up dan juga pemenang Beauty with a Purpose.
Hasil lengkap malam final Miss World 2015 :
Miss World 2015 : Spanyol – Mireia Lalaguna
1st Runner-up : Rusia – Sofia Nikitchuk
2nd Runner-up : Indonesia – Maria Harfanti
Top 5 :
4. Jamaika – Sanneta Myrie
5. Lebanon – Valerie Abou Chacra
Top 11 :
6. Afrika Selatan – Liesl Laurie
7. Australia – Tess Alexander
8. Filipina – Hillarie Parungao
9. Guyana – Lisa Punch
10. Prancis – Hinarere Taputu
11. Vietnam – Tran Ngọc Lan Khue
Top 21 :
12. Belanda – Margot Hanekamp
13. Brasil – Catharina Choi
14. China – Yuan Lu
15. Ekuador – Camila Marañón
16. Irlandia Utara – Leanne McDowell
17. Kazakhstan – Regina Vandysheva
18. Polandia – Marta Palucka
19. Selandia Baru – Deborah Lambie
20. Skotlandia – Mhairi Fergusson
21. Sudan Selatan – Ajaa Monchol
Setelah kemenangannya sebagai Miss World 2015. Ditahun 2016 Mireia Lalaguna datang ke Indonesia untuk menghadiri malam final Miss Indonesia 2016.
Berikut 10 Potret Ekslusif Kehadiran Mireia Lalaguna Miss World 2015 di Indonesia.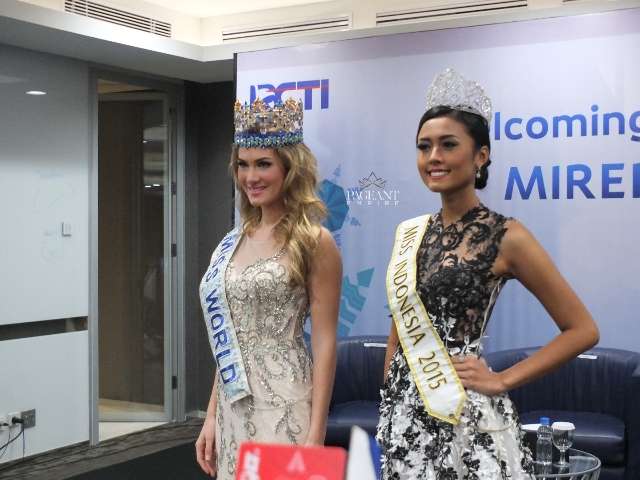 1. Mireia Lalaguna Miss World 2015 dan Maria Harfanti Miss Indonesia 2015, hadir Rabu, 24 Fabruari 2016 di gedung Global TV, kebon jeruk, Jakarta Barat.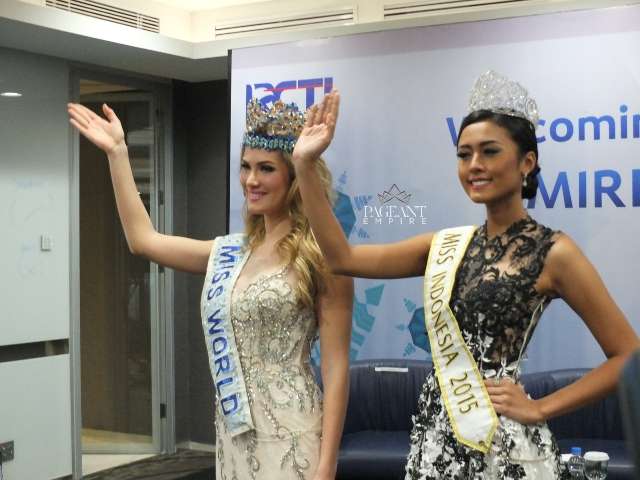 2. Lengkap mengenakan mahkota biru, Mireia Lalaguna Miss World 2015 dan Maria Harfanti Miss Indonesia 2015 melambaikan tangan dihadapan awak media yang hadir.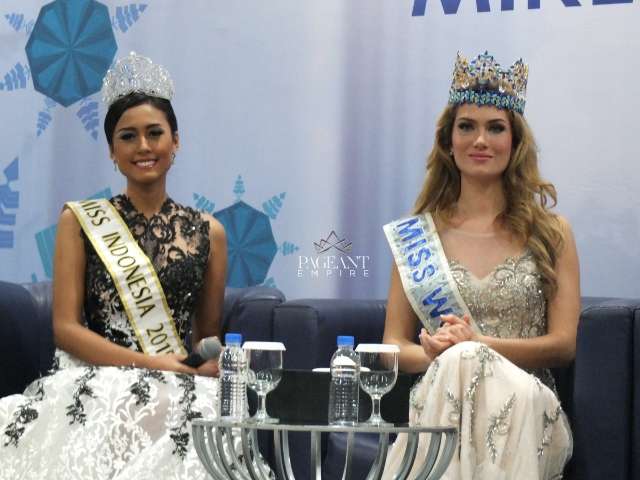 2. Miss World asal Spanyol itu disambut dengan hangat. Selain jadi bintang tamu, kedatangannya juga untuk memberikan dukungan dan motivasi 34 finalis Miss Indonesia 2016 yang sedang berkompetisi untuk memperebutkan mahkota Miss Indonesia.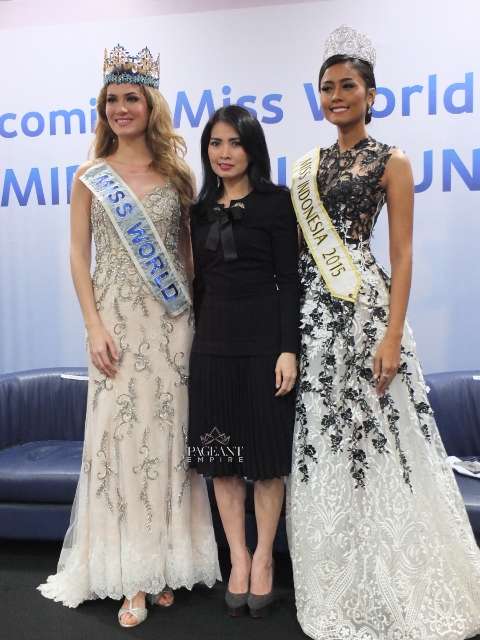 3. Sebagai Chairwoman of Miss Indonesia Organization, Liliana Tanoesoedibjo mengaku senang atas kehadiran Miss World 2015 dan Miss World Organization. Ia pun berterima kasih atas kesediaan mereka untuk hadir.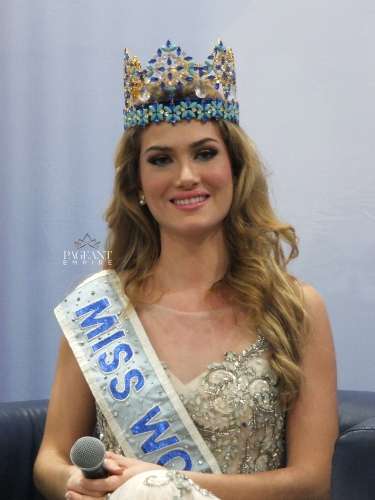 4. Sambil tersenyum manis, Mireia Lalaguna Miss World 2015 menatap kearah lensa team Pageantempire.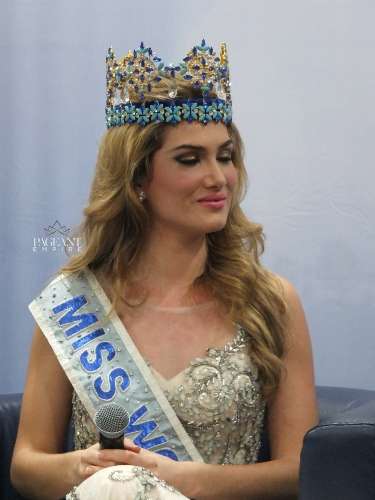 5. Aura kecantikan Mireia Lalaguna Miss World 2015 tidak luntur, meski sempat memejamkan mata sejenak.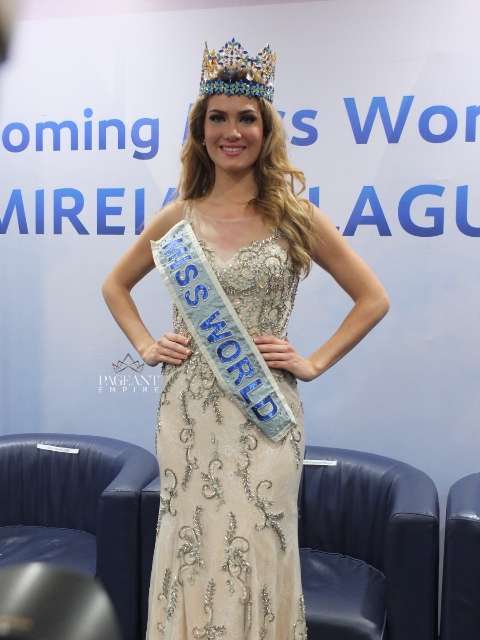 6. Selama berada di Indonesia, Mireia Lalaguna Miss World 2015, ternyata sangat menyukai kuliner Indonesia, ia sudah mencoba gado-gado, sate ayam dengan bumbu kacang, menurutnya sangat enak.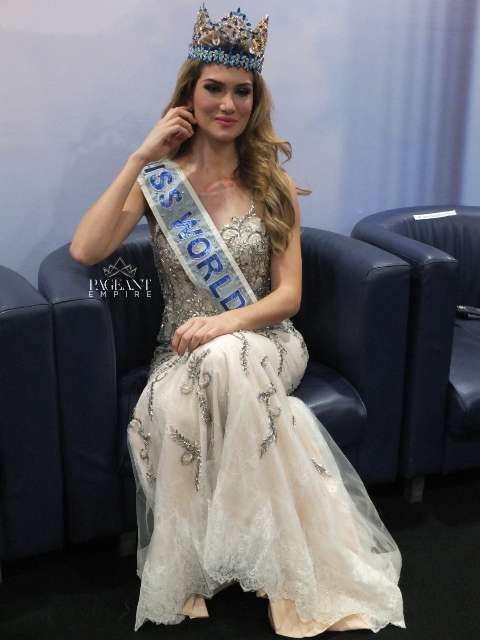 7. Selain itu ia juga ingin ke Bali, namun sayang karena jadwalnya padat kesempatan itu tidak memungkinkan.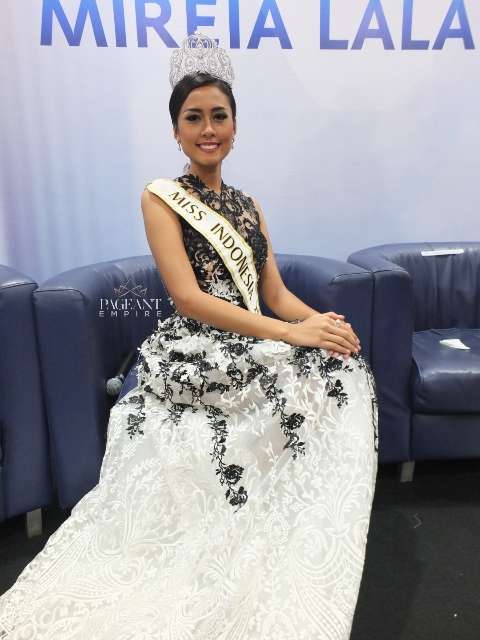 8. Sambil menatap lensa kamera team Pageantempire. Maria Hartanti selain meraih 2nd runner up Miss World 2015 dan pemenang Beauty with a Purpose ia juga terpilih sebagai Miss World Asia 2015.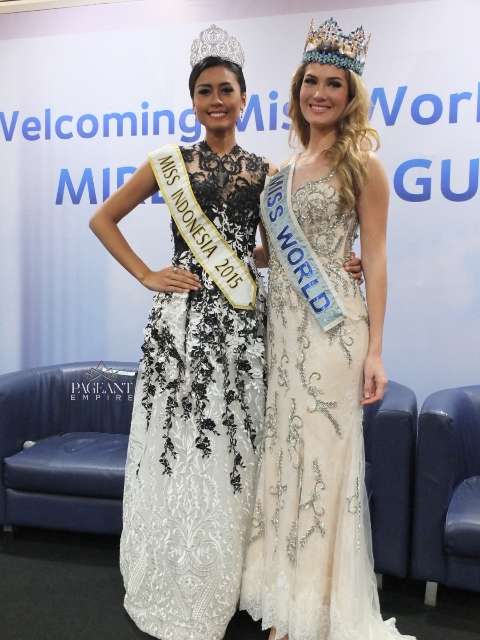 9. Selain itu Maria juga meraih prestasi lainnya, yaitu Top 7 Interview, Top 13 Talent Award, Top 15 Multimedia, Top 10 World Fashion Designer dan Top 25 People's Choice Award.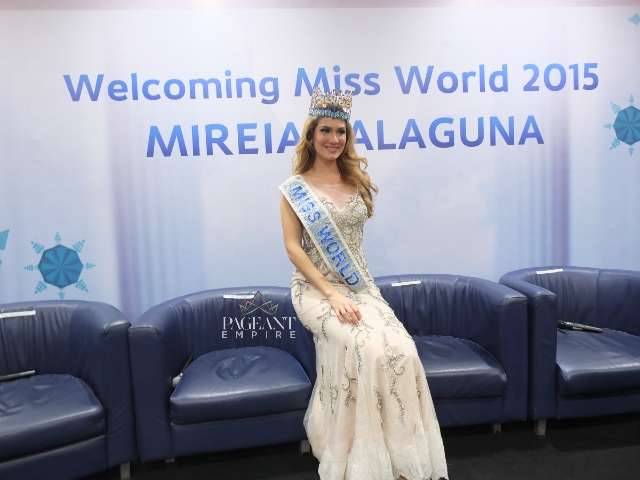 10. Namanya juga seorang ratu kecantikan, mau duduk dimana pun juga dengan pose apapun juga, aura ratu kecantikannya tetap terjaga.
Penulis : Irwans