Jumat, 26 Februari 2021 persiapan khusus dilakukan perwakilan Indonesia, Aurra Kharishma wanita berusia 20 tahun dengan tinggi 181cm. Bersama Ivan Gunawan selaku National Director Miss Grand Indonesia dan team.
Press conference Aurra Kharishma road to Miss Grand International dilangsungkan di Roseville Soho & Suite BSD, turut hadir Top 5 Miss Grand Indonesia 2020, Keluarga, Sahabat, Mentor, Marco (Posture Management) Manohara Beauty Camp, Sponsor Pratama Group diwakilkan Valen Hari Putri (Miss Grand Tourism Indonesia 2021) Sakti Mikael (Mister Glam International 2019) Gandhi Fernando (Mister Supranational Indonesia 2018) Nadia Purwoko (Miss Grand Indonesia 2018 dan 2nd runner up Miss Grand International 2018) dan tentunya Pageants Lover Indonesia.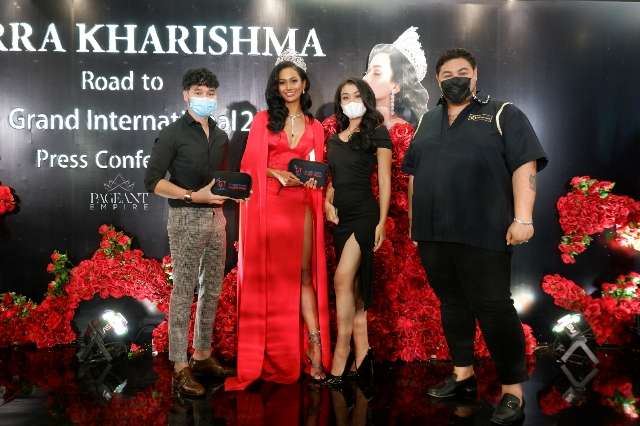 Dalam press conference tersebut dipandu Rian Ibram sebagai host dan pada malam tersebut Aurra tampil dalam 3 look, yang pertama evening gown dari Anaz.
Kemudian dilanjutkan dengan sesi national costume "The Edacious of Chicken Satay" rancangan dari Jember Fashion Carnaval. Kostum nasional bertemakan Sate Ayam, lengkap dengan ornamen sate, pembakaran, kipas dan baju khas penjual sate dari Jawa Timur.
Terakhir mengenakan evening gown berwarna merah sedangkan satu evening gown pamungkas untuk malam final dan preliminary masih dirahasiakan.
Ivan Gunawan juga menyebutkan bahwa ia mempersiapan 30 look OOTD (Outfit Of The Day) dari dress, sepatu, tas dan aksesoris dipersiapkan khusus untuk Aurra selama karantina di Bangkok, Thailand.
Dengan mata berkaca-kaca Aurra Kharisma Miss Grand Indonesia 2020 juga mengucapkan banyak terima kasih kepada pageants lover Indonesia dan masyarakat Indonesia, keluarga dan sahabat yang sudah mendukungnya di Miss Grand International.
Sementara itu Ivan Gunawan selaku national director Miss Grand Indonesia berpesan bahwa siapapun wakil Indonesia, mau dari yayasan manapun juga, ia meminta masyarakat Indonesia dan pageants lover Indonesia untuk selalu kompak dan mensupport, bahwa Aurra Kharishma yang ia kirim ke Miss Grand International bukan lagi membawa nama pribadi atau yayasan, namun ia membawa nama Indonesia.
Dan diakhir press conference, Ivan juga berharap Aurra bisa two last standing dan dapat membawa mahkota kedua Miss Grand International 2020 ke Indonesia, setelah 2016 Indonesia berhasil meraih mahkota Miss Grand International melalui Ariska Putri Pertiwi.
Seperti apa keseruan press conference Aurra Kharishma road to Miss Grand International 2020 dan hebohnya Pageants Lover Indonesia. Klik linknya dibawah ini.
Penulis : Irwans