Sebentar lagi Jihane Almira Chedid Miss Supranational Indonesia 2020 dan juga Puteri Indonesia Pariwisata 2020 berangkat ke Polandia untuk mengikuti Miss Supranational 2021.
Segala persiapa sudah dilakukan, termasuk press conference yang diadakan hari ini, Kamis (29/7/2021) yang disiarkan secara live melalui akun YouTube Official Puteri Indonesia.
Press conference tersebut sudah dilakukan beberapa hari sebelumnya, dengan pembukan Patricia Gouw sebagai host acara dan kata sambutan dari Ibu Putri Kuswisnu Wardani selaku Penasihat Utama Yayasan Puteri Indonesia. Dengan hiburan duo penyanyi Baim dan Ariyo Wahab.
Dalam press conference tersebut Jihane menampilkan 5 busana, white dress dari Tommy Panca Murti, red gown rancangan Anaz, strong roots gown dari Denny Opulance, kebaya Anne Avantie dan yang paling ditunggu-tunggu national costume rancangan Eggi Jasmin Artisan berkolaborasi dengan Levico Butik.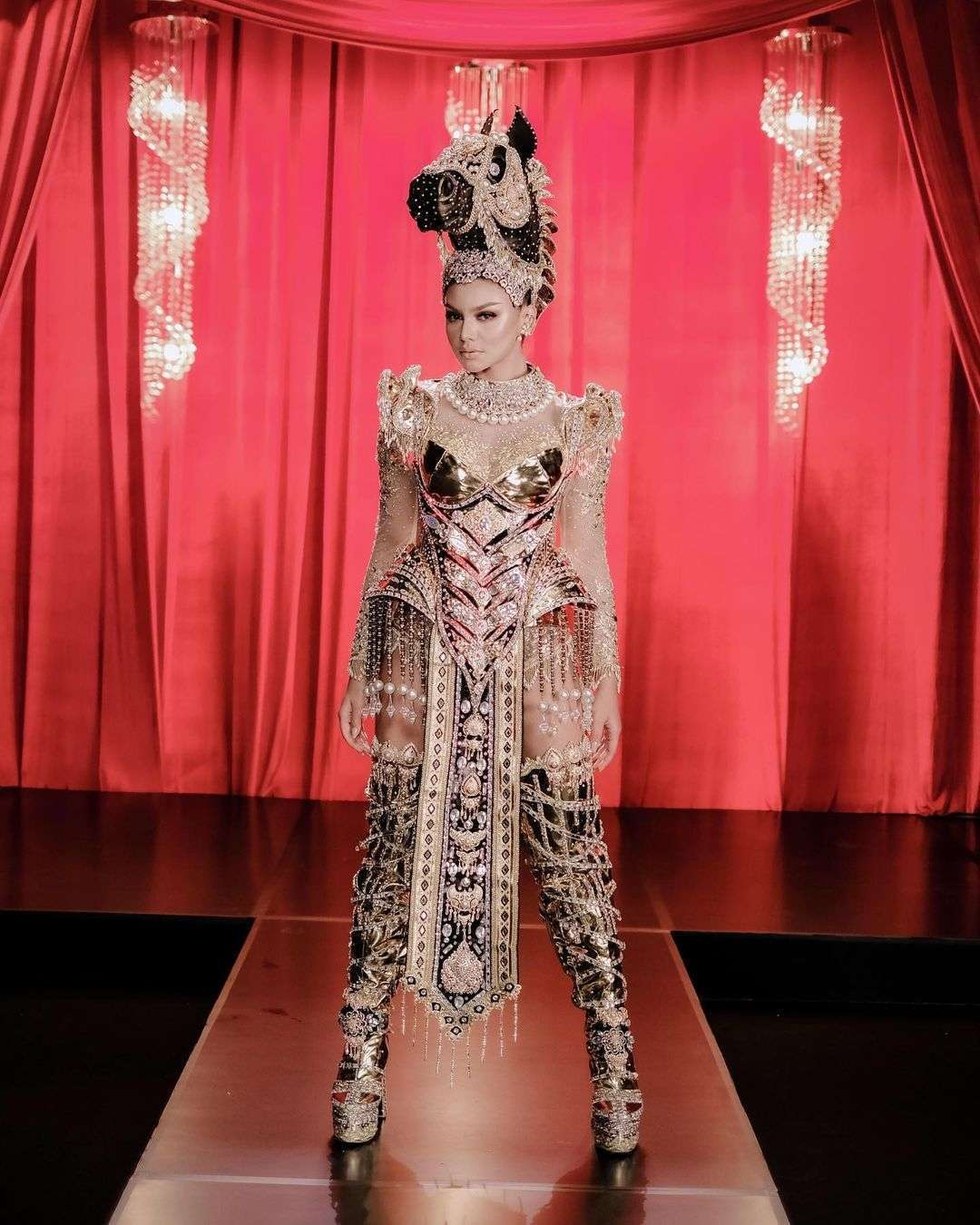 Bertemakan Kuda dari Nusa Tenggara Timur adalah National Costume Jihane yang akan di kenakan. Look at the details omgggg it's totally perfect and so lit. Mimin speechless and can't say anything. Everything perfect on Jihane. Mas karyamu sangat membius, menter, dan menggelegar Eggi Jasmin Artisan.
Levico Butik mempersembahkan karya baru hasil kolaborasi dengan Eggie Jasmin Artisan Couture dalam menciptakan busana yang selalu glamor & kuat dari warisan Nusa Tenggara Timur -"The Dashing of Equus Caballus"-sebagai Kostum Nasional resmi Miss Supranational Indonesia 2021.
Terinspirasi dari kuda gagah berani asli Nusa Tenggara Timur, Equus Caballus memiliki kekuatan dan kecepatan balap yang kuat, di antara banyak jenis kuda Indonesia lainnya.
Karena emas melambangkan kebaruan, kekuatan, dan kemuliaan, "The Dashing Of Equus Caballus' dibuat dalam fabrikasi berlapis emas pada bustier, topi baja, dan sepatu boot untuk memancarkan aura agung siapa pun yang bertemu makhluk agung ini.
Penggunaan material rantai emas & ukiran embellishment emas sebagai pelindung pelindung pada headpiece melambangkan kekuatan ksatria yang maskulin dan tangguh.
Bertaburkan 10.000 berlian rhinestones pada keseluruhan kostum, dipadukan dengan Kain Brokat & Payet di bagian dalam, memberikan sentuhan feminin pada kostum dalam tampilan yang kokoh.
Sebagai sentuhan akhir, pengaplikasian extra pearl & crystal drop memberikan kesan mewah dan kostum nasional ini ke pentas supranational.
Penulis : Irwans