Setelah menjalani karantina sekitar 2 Minggu untuk ajang Mister Supranational. Pada 16/07/2022 waktu setempat akan berlangsung Grand Final Mister Supranational 2022 di Strzelecki Park Amphitheater, Nowy Sącz, Poland.
Selama masa karantina para kontestan diajang berkeliling Poland serta menjalani serangkaian penilaian diantara #SupraChat, #SupraTalent, #SupraInfluencer, #SupraTopModel, Supra Fitness, deep interview, preliminary swimwear & formal wear.
Indonesia kembali mengirim perwakilan untuk kelima, perwakilan pertama dan kedua, dikirim dari national director lainnya yaitu Gilbert Pangalila Top 10 Mister Supranational 2017 dan Gandhi Fernando (Unplaced) Mister Supranational 2018.
Tahun berikutnya lisensi dipegang L-Men dengan mengirim perwakilannya Enrique Dustin Top 20 Mister Supranational 2019 dan Okky Alparessi Top 10 Mister Supranational 2021. Ditahun 2022, L-Men mengirim Matthew Gilbert Wibowo 1st Runner Up L-Men of The Year 2021.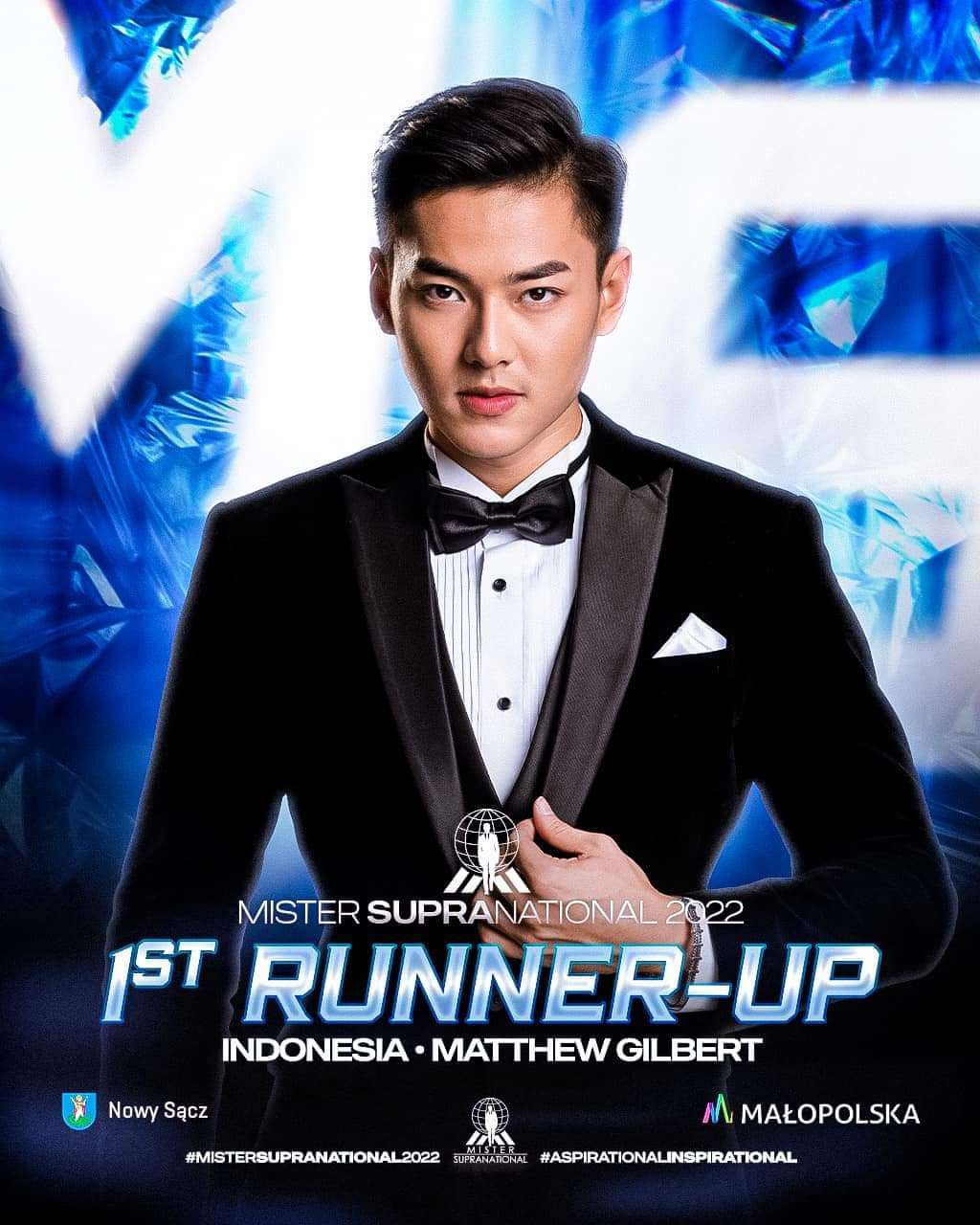 Pemuda berusia 22 tahun kelahiran Purwokerto 13 Maret 2000. Berhasil mencatatkan sejarah pertama kalinya Indonesia berada diposisi juara kedua atau 1st Runner Up Mister Supranational 2022.
Apa rahasianya! Di tujang tubuh yang proporsional dengan tinggi 185cm, publik speaking yang bagus. Pemuda yang pernah menjadi model runway Ivan Gunawan 'Raya Colletion' dan Indonesia Fashion Week 2022.
Sebelum karantina dimulai, Matthew sudah tiba duluan di Malopolska, Polandia. Ia bisa mengeksplorasi keindahan benua biru tersebut sambil beradaptasi dengan lingkungan baru.
Selama karantina ia juga tetap fokus, disiplin dan berbaur dengan kontestan lainnya, hasilnya Matthew juga masuk Top 5 Best Talent.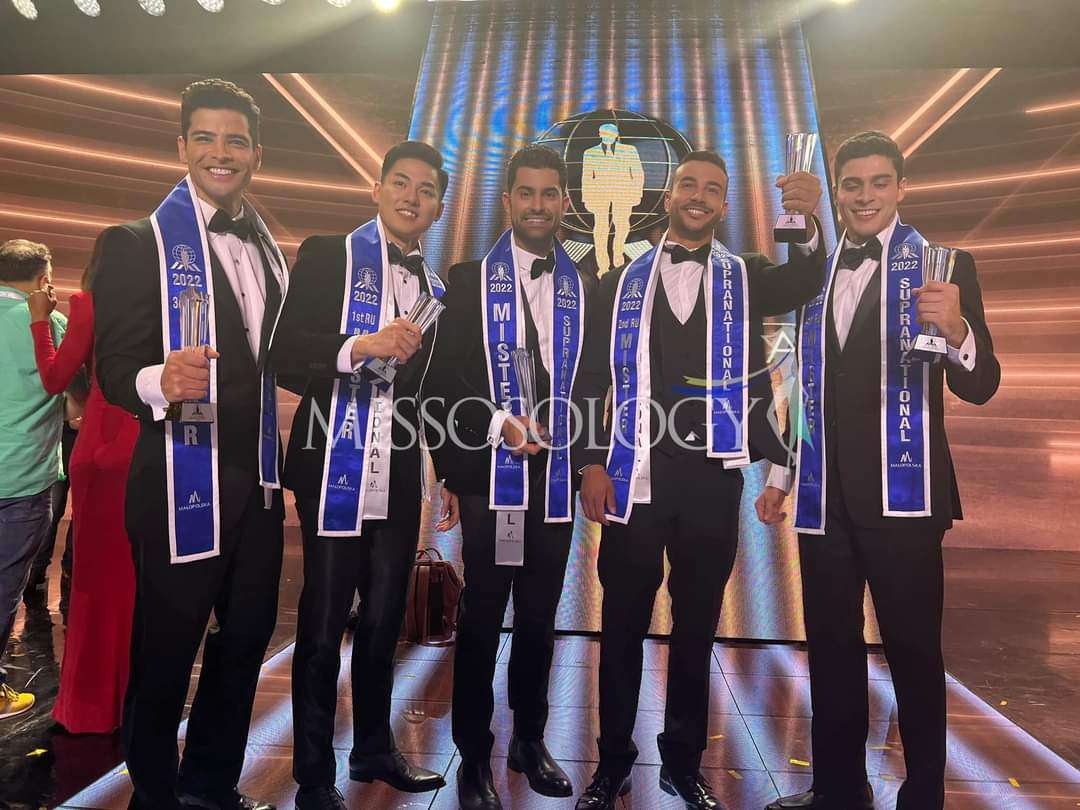 Berikut hasil lengkap grand final Mister Supranational 2022 :
Mister Supranational 2022 : Luis Daniel Galvez (Cuba)
1st Runner-Up : Matthew Gilbert Wibowo (Indonesia(
2nd Runner-Up : Leonidas Amfilochios (Greece)
3rd Runner-Up : Moises Penaloza (Mexico)
4th Runner-Up : Heriberto Rivera (Puerto Rico)
Top 10 :
Guilherme Werner (Brazil)
Adrian Itzam Monge (El Salvador (
Pierre Bondon (France)
Teenarupakorn Muangmai (Thailand)
Bui Xuan Đạt (Vietnam)
Top 20 :
Miguel Angel Olaya (Argentina)
Yentl van Hoorbeke (Belgia)
Raed Fernandez Al-Zghayer (Philippines)
Giuseppe Santagata (Italy)
Han Jung-wan (Korea)
Nicola Roberto (Peru)
Lewis Echavarria (Dominican Republic)
Manuel Ndele (Spain)
Wynter Mason (Trinidad & Tobago)
Anthony Gallardo (Venezuela)
Mister Supranational Continental :
Amerika : Guilherme Werner (Brazil)
Asia : Byi Xuan Dat (Vietnam (
Karibia : Lewis Echavarria (Dominican Republic)
Eropa : Pierre Bondon (France)
Spesial Awards :
Mister Fitness : Pierre Bondon (France)
Supra Fan-Vote Winner : Teenarupakorn Muangmai (Thailand)
Mister Influencer : Giuseppe Santagata (Italy)
Supra Chat : Han Jung-wan (Korea)
Top Model of The Year : Moises Penaloza (Mexico)
Mister Friendship : Giuseppe Santagata (Italy)
Mister Gold Spa :
Mister Hotel Beskid :
Mister Personality : Moises Penaloza (Mexico)
Mister Photogenic : Heriberto Rivera (Puerto Rico)
Mister Talent : Sanish Shrestha (Nepal)
Penulis : Irwan