Bertempat di Vasa Hotel Surabaya, Komite Nasional Mister Teen Indonesia – Miss Teenager Indonesia secara resmi membuka kegiatan karantina. Berdasarkan hasil seleksi regional dan audisi nasional, terpilih 60 kontestan terdiri atas 30 remaja laki-laki dan 30 remaja perempuan terbaik. Remaja perwakilan 30 provinsi tersebut akan mulai ikuti karantina pada 1 November
dan berjuang untuk menjadi yang terbaik pada malam Grand Final 4 November mendatang.
Rachel Wang, ketua komite penyelenggara Mister Teen Indonesia – Miss Teenager Indonesia mengatakan bahwa saat ini persiapan Surabaya sebagai tuan rumah sudah siap karena banyak mendapat dukungan baik dari pemerintah daerah, swasta, dan lembaga pendidikan. Banyaknya dukungan terhadap kompetisi ini karena pemenang selama masa jabatan 1 tahun akan menjalankan advokasi pada 4 bidang yaitu YEES: Youth (kepemudaan), Education (Pendidikan), Environment (Lingkungan), dan Social (Sosial-Kemanusiaan) serta menjadi
wakil negara di kompetisi internasional Look of the Year & Miss Teen Universe.
Untuk dapat menjadi pemenang Mister Teen Indonesia dan Miss Teenager Indonesia, kontestan akan dinilai dari 2 aspek utama yaitu performa dan potensi. Aspek yang meliputi performa diantaranya: Teen Hunk Competition/Top Model, Formal Wear & Sportwear fashion
parade, Youth Diplomacy dan Vlogging Competition. Sedangkan aspek yang meliputi potensi ialah hasil interview, tes kepribadian, digital branding, dan portofolio.
Melihat kontribusi dan eksistensi positif Mister Teen Indonesia – Miss Teenager Indonesia selama ini, pada tahun ini tercatat ada 3 entitas besar sebagai pendukung utama kompetisi ini
diantaranya MS Glow, Bukit Darmo Golf, dan ADUPI (Asosiasi Daur Ulang Plastik Indonesia) Bersama Le Minerale dimana para pemenang tahun ini didapuk sebagai Brand Ambassador.
Saiful Bahri, National Director Indonesia berharap bahwa dengan banyak nya dukungan dari berbagai pihak membuat kompetisi ini lebih berkualitas dan memiliki kontribusi lebih besar dalam masyarakat serta meningkatkan prestasi internasional terlebih karena tahun ini pemenang Mister Teen Indonesia direncanakan untuk berkompetisi di Australia dan Miss
Teenager Indonesia di Amerika Serikat.
Berikut daftar kontestan Mister Teen Indonesia 2022:
1. ACEH – Fitrah Ar Rasyidi (20 y.o)
2. SUMATERA UTARA – M. Revanza Dinata Permana (16 y.o)
3. RIAU – Farrell Putra Kurniawan (15 y.o)
4. SUMATERA BARAT – Aldi Rahmat (19 y.o)
5. JAMBI – Raffi Taqwa (14 y.o)
6. BENGKULU – Muhammad Farrel Ramadhan Alhady (19 y.o)
7. BANGKA BELITUNG – Rendi pratama (19 y.o)
8. SUMATERA SELATAN – Muhamad Aldi Prayuda (18 y.o)
9. BANTEN – Supriyadi (20 y.o)
10. DKI JAKARTA 1 – Pandu Arya Putera Sutanto (15 y.o)
11. DKI JAKARTA 2 – Dio Geovani (19 y.o)
12. DKI JAKARTA 3 – Muhammad Iqbal (20 y.o)
13. JAWA BARAT – Febby Cipta (18 y.o)
14. JAWA TENGAH – Luhur Devan Syah (19 y.o)
15. D.I YOGYAKARTA – Bayundra Alqamara (19 y.o)
16. JAWA TIMUR – Dino febiyan (16 y.o)
17. BALI – I Gusti Ngurah Rahadi Premana Putra (19 y.o)
18. NUSA TENGGARA BARAT – M. Dhafintara Irawan (17 y.o)
19. NUSA TENGGARA TIMUR- Jonathan Valentino Manuel (17 y.o)
20. KALIMANTAN BARAT – Muhammad Aji Seftiansyah (20 y.o)
21. KALIMANTAN TENGAH – Tryoanda nazaret (17 y.o) 22. KALIMANTAN SELATAN – Muhammad Yahya Bintang (16 y.o)
23. KALIMANTAN TIMUR – Rahmat Hidayat Kevin Paulus Laoh (19 y.o)
24. KALIMANTAN UTARA – Dwiki Adi Darmawan (20 y.o)
25. IKN NUSANTARA – Abdiel Chrise Jatmiko Widodo (18 y.o)
26. SULAWESI SELATAN – Andi Fayyad Alfian (14 y.o)
27. SULAWESI TENGAH – Jemlie Santoso (18 y.o)
28. SULAWESI UTARA – Alfred Lasman (19 y.o)
29. GORONTALO – Jozeva Itcialdy wuisan (16 y.o)
30. MALUKU – Zoar Angel Mikhael Tumalang (19 y.o)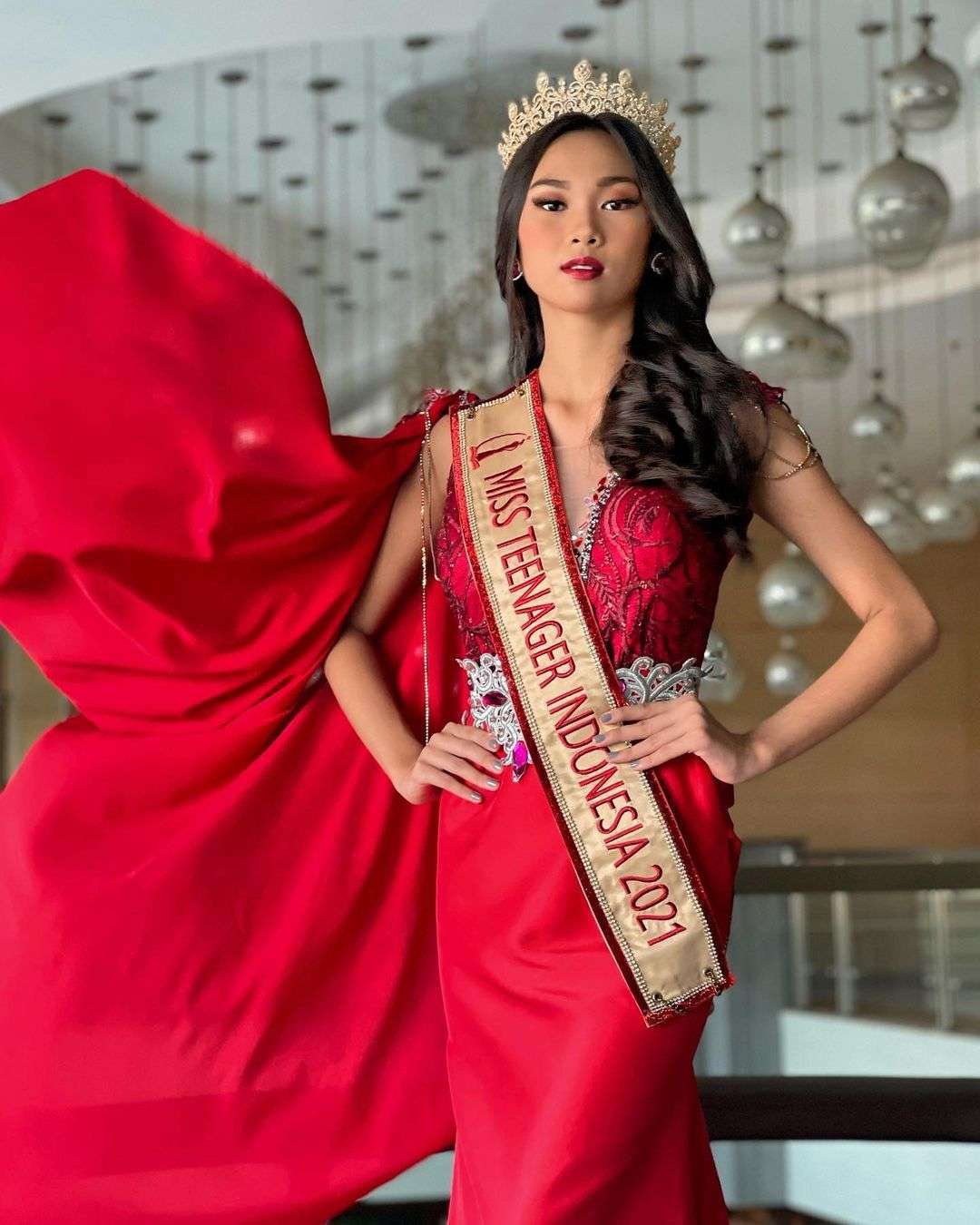 Berikut daftar kontestan Miss Teenager Indonesia 2022:
1. SUMATERA UTARA – Sandhya Jayanthy (18 y.o)
2. RIAU – Salsabila (20 y.o)
3. SUMATERA BARAT – Elsa Amanda Putri ( 20 y.o)
4. JAMBI – Karindra Citra Bonia (17 y.o)
5. BENGKULU – Vioni Ramadania (18 y.o)
6. BANGKA BELITUNG – Chellista Harvius Teja (16 y.o)
7. SUMATERA SELATAN – Jevelyn Novelya Laurence (14 y.o)
8. BANTEN – Cinta Piecesia Putri Arini (14 y.o)
9. DKI JAKARTA 1 – Ashley Ariska Adams (16 y.o)
10. DKI JAKARTA 2 – Nishrina Nur Lazuardi (15 y.o)
11. DKI JAKARTA 3 – Whitney Karnisa (19 y.o)
12. DKI JAKARTA 4 – Aurysia Thea Evelynn Santoso (17 y.o)
13. DKI JAKARTA 5 – Barreta Stephani (19 y.o)
14. DKI JAKARTA 6 – Dalilla Dininda Jilan (16 y.o)
15. JAWA BARAT 1 – Radhyna Azzahra Putri (15 y.o)
16. JAWA BARAT 2 – Aura Rida Putri Danoerisa (18 y.o)
17. JAWA TENGAH – Christabel Janice Emmanuel (18 y.o)
18. D.I YOGYAKARTA – Bella Febriani Santule (16 y.o)
19. JAWA TIMUR 1 – Jesslyne Anggelina PH (15 y.o)
20. JAWA TIMUR 2 – Chateryne Fellisya Tutuarima (16 y.o)
21. BALI 1 – Mirachelle Julasavee Surja (14 y.o)
22. BALI 2 – Vina Elysia (15 y.o)
23. NUSA TENGGARA TIMUR – Aster Dwi Armelia Naftali Rede (17 y.o)
24. KALIMANTAN TENGAH – Natasya Sabrina (17 y.o)
25. KALIMANTAN TIMUR – Roro Avrilia Putri Gunawan (18 y.o)
26. SULAWESI SELATAN – Sheryl Liem (15 y.o)
27. SULAWESI TENGAH – Allaiya Kadziah Firyal (17 y.o)
28. SULAWESI UTARA 1 – Karen Christania Angely Robot (15 y.o)
29. SULAWESI UTARA 2 – Kezia Syalom Tatilu (14 y.o)
30. Papua Virginia Tesalonika Seba (14 y.o)
Penasaran gimana keseruan karantina Mister Teen Indonesia dan Miss Teenager Indonesia? Stay tuned di Pageant Empire