Era baru Miss Universe sudah dimulai, kontes kecantikan tertua didunia tersebut tahun ini memasuki edisi ke 71 dan diadakan di New Orleans, Louisiana Amerika Serikat.
Diikuti 84 negara yang berpartisipasi dari tanggal Sabtu, 14 Januari dan finalnya Minggu,15 Januari 2023 (waktu Indonesia).
Dibawah kepemilikan baru Anne Jakrajutatip, founder dan ceo JKN Group Global Public. Transpuan asal Thailand tersebut langsung mengebrak Miss Universe dengan merubah selempang dan mahkota terbaru.
Selempang Miss Universe dengan font terbaru, membawa tagline "Sustainable Sash" ditengah selempang tersebut ada logo kompas, tanda empat arah mata angin dan perubahan mahkota berwarna biru "Force of Good Crown" masih dari designer Mouawad, yang juga pembuat mahkota Miss Universe era IMG tahun 2019-2021.
Dipandu 4 host perempuan terdiri dari Olivia Culpo Miss Universe 2012 dan Jeannie Mai Jenkins era Donald Trump dan host backstage Catriona Gray Miss Universe 2018 dan Zuri Hall dari era IMG. Serta deretan juri dari kalangan wanita.
Kejutan terjadi saat pengumuman Top 16 Miss Universe 2022 yaitu Puerto Rico, Haiti, Australia, Dominican Republic, Laos, South Africa, Portugal, Canada, Peru, Trinidad and Tobago, Curacao, India, Venezuela, Spain, USA dan Colombia.
Top 16 tersebut mewakili perbenua, mulai dari Eropa 2, Asia 2, Oceania 1, Africa 1. But they give the natural MU back with Caribbean 5 dan Americas 5.
kejutan terjadi di benua Asia Tenggara, negara Laos berhasil mencuri perhatian dengan membawa advokasi sebagai guru dan pertama kali masuk top 16 semifinalis Miss Universe.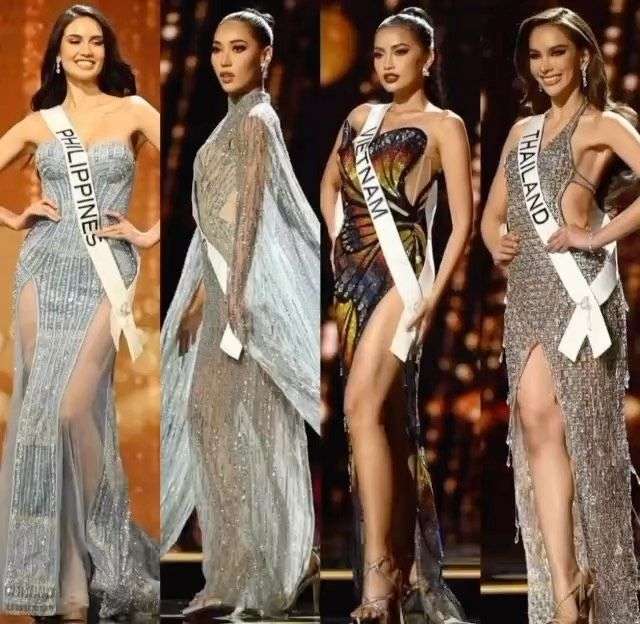 Sedangkan 4 negara Indonesia, Thailand, Philippines dan Vietnam yang mempunyai kekuatan di fanbase harus merelakan belum berhasil lolos ke semifinalis, catatan khusus untuk negara Philippines tahun ini pertama kali tidak lolos semifinalis, semenjak tahun 2010 sampai 2021 mereka selalu lolos babak semifinalis, bahkan 2 kali juara Miss Universe 2015 dan 2018.
Setelah sesi evening gown dan swimsuit, langsung dikerucutkan menjadi top 5 yaitu Venezuela, USA, Puerto Rico, Curacao dan Dominican Republic.
Setelah sesi interview dari top 5 kembali dikerucutkan menjadi top 3 yaitu Dominican Republic, USA dan Venezuela.
Setelah rehat sejenak, babak berikutnya langsung pengumuman 2nd runner-up diraih Dominican Republic, 1st runner-up diraih Venezuela dan juara pertama R' Bonney Gabriel dari USA.
Memiliki background sebagai fashion designer dan juga memiliki clothing line sendiri yang berbasis Eco friendly. R'Bonney benar-benar mengimplementasikan background nya tersebut, saat sesi preliminary beliau membuat sendiri design cape untuk sesi swimsuit competition Miss Universe 2022.
Tidak salah New era Miss Universe memilih beliau sebagai pemenangnya, sesuai dengan tagline selempang baru "Sustainable Sash" dan mahkota berwarna biru "Force of Good Crown" serta tagline Miss Universe "Beautifully Confident".
USA berhasil kembali winner Miss Universe setelah terakhir kali juara 10 tahun yang lalu, tepatnya 2012 dimana Olivia Culpo yang menjadi host Miss Universe sekarang adalah pemenang Miss Universe 2012.
Dengan demikian USA berhasil memimpin perolehan sebanyak 9 kali juara Miss Universe, disusul Venezuela 7 kali juara.
Sekali lagi selamat R'Bonney Gabriel sebagai Miss Universe 2022 sampai ketemu di malam final Puteri Indonesia 2023.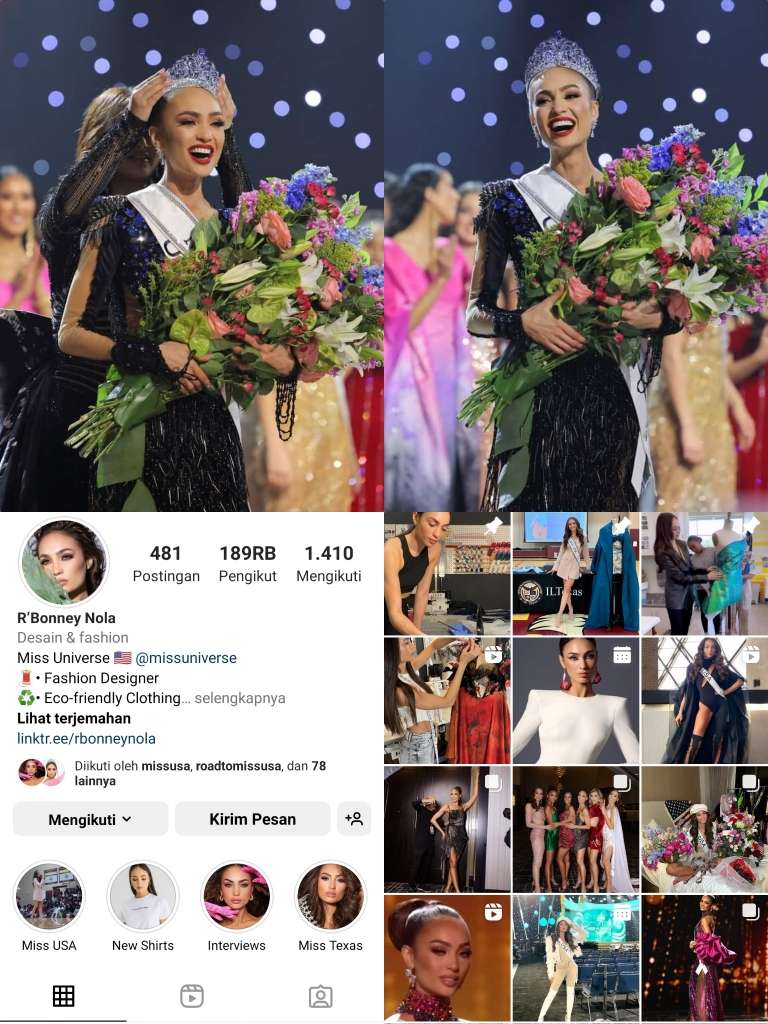 Berikut result Miss Universe 2022 :
Winner : USA
1st Runner up : Venezuela
2nd Runner up : Dominican Republic
Top 5 :
Puerto Rico
Curacao
Top 16 :
Haiti
Australia
Laos
South Africa
Portugal
Canada
Peru
Trinidad and Tobago
India
Spain
Colombia
Spesial Awards :
Social Impact Award : Thailand
Spirit of Carnaval Award : Ukraine
Miss Congeniality : Chile dan Malta
Miss Photogenic :
Best in National Costume :
Penulis : Irwan