Muffest+ adalah event fashion muslim terbesar di Indonesia yang diselenggarakan oleh Indonesia Fashion Chamber dan tahun ini memasuki tahun kedelapan penyelenggaraannya.
Jumat (3/3) Press conference Muffest+ road to In2MotionFest 2023 menghadirkan trunk show beberapa designer yang akan tampil diantaranya Deden Siswanto, Brilianto Rosemalina x Sofie, Hannie Hananto, Itang Yunasz, Anggia Handmade, kami., ALEABE by Melly Goeslaw, Barli Asmara, Batik Trusmi, Buttonscarves dan Aleza.
Muffest+ road to In2MotionFest diadakan selama empat hari, dari tanggal 7-10 Maret 2023 di The Westin Hotel, dari jam 10 pagi sampai 10 malam, dengan jumlah durasi 19 slot show dan sehari ada 5 slot show.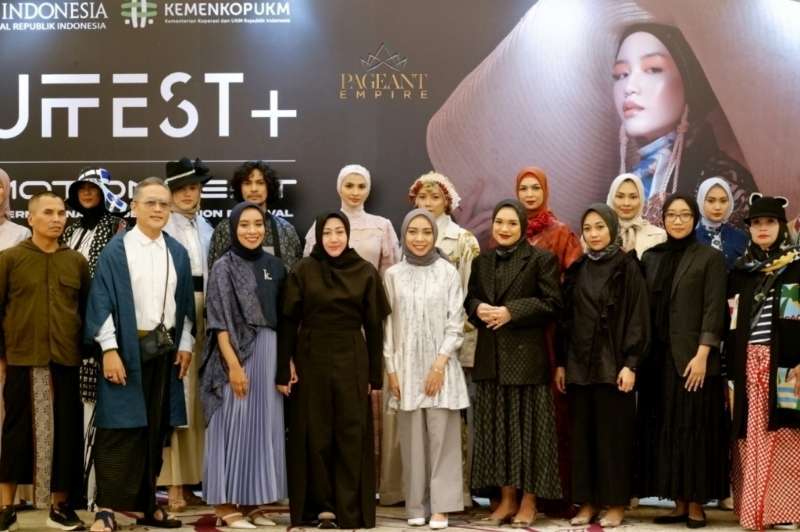 Selain fashion show ada juga mini stage, road show, launching book, economies syariah. Menghadirkan 150 brand, 200 designer, kedatangan 8 International designer dari Laos, Philippines, Kamboja, Singapore, Brunai Darussalam, modest design competition dan Next Face Muffest 2023 ada 240 yang mendaftar dan terpilih 15 finalis muslimah yang akan berkompetisi hari Kamis, 9 Maret 2023.
"Next Face diikuti 15 finalis muslimah, pada babak final akan dipilih top 3, juara pertama, kedua dan ketiga akan menerima sejumlah hadiah dan akan dilibatkan sebagai brand ambassador untuk sejumlah designer, dan tentunya juga mereka akan menjadi model runway event Muffest serta Indonesia Fashion Chamber" ujar Ali Charisma Chairman of Indonesia Fashion Chamber.
Next Face terakhir diselenggarakan tahun 2019, dan tahun ini Next Face berkolaborasi dengan brand kosmetik Wardah.
Penulis : Irwan