Audisi terakhir JFW Model Search sekaligus Grand Final dilangsungkan secara terbatas di Fashionlink x #BLCKVNUE, Senayan City, Jakarta sepanjang 1-5 Juli 2020.
Audisi ini berlangsung menggunakan sistem yang berbeda dari tahun-tahun sebelumnya dengan mengikuti prosedur pembatasan sosial berskala besar versi transisi yang ditetapkan pemerintah.
Tahun ini, tidak ada lagi pendaftaran di tempat. Total 1345 model mendaftar untuk ajang ini. Sistem pendaftaran yang dilakukan melalui aplikasi hasil kolaborasi dengan Moonlay Technologies ditutup pada tanggal 27 Juni 2020, dan 760 model mendaftar untuk audisi Jakarta.
Peserta yang terpilih mendapat panduan khusus untuk mengirimkan sampel video mereka ke Jakarta Fashion Week – video tersebut menjadi dasar dewan juri untuk memutuskan apakah peserta dapat lanjut ke babak audisi fisik.
Menerapkan prosedur kesehatan yang ketat, Jakarta Fashion Week dibantu oleh Bateeq untuk penyediaan masker kain, Duaemed untuk face shield, dan RSGM Yarsi untuk medical gloves dan hand sanitizer.
Dewan Juri yang terdiri atas Ai Syarif (Creative Advisor Jakarta Fashion Week), Panca Makmun (senior choreographer), Erwin Suganda (Creative Director UBS Gold), Wita Juwita (Ambassador
Jakarta Fashion Week), dan Yoland Handoko (celebrity fashion stylist) menetapkan Daffa, Ciquita, Nuzula, Douglas, Rizal, Brayen sebagai pemenang JFW Model Search Jakarta. Dewan Juri juga menganugrahkan gelar Best of The Best kepada Rizal (Jakarta) dan Maria (Surabaya).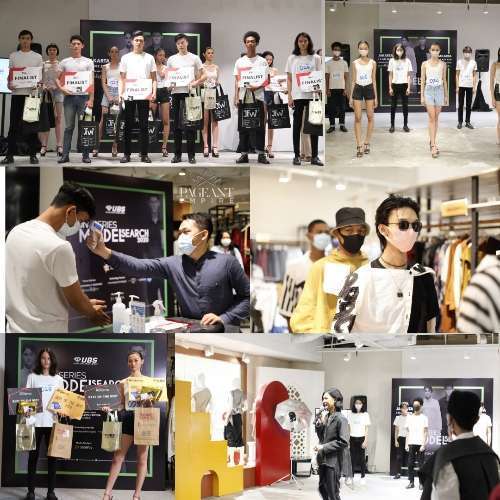 Selain itu, dipilih pula enam model lelaki dan enam model perempuan yang sebagai kandidat Icons Of JFW 2021, termasuk peserta yang telah dipilih dari audisi regional di Yogyakarta (Hartono Mall, 8 – 9 Februari 2020), Surabaya (Galaxy Mall 3, 15 – 16 Februari 2020), Medan (Delipark, 29 Februari – 1 Maret 2020), dan Bandung (23 Paskal, 14 – 15 Maret 2020).
Mereka adalah Amos (Yogyakarta), Brayen (Jakarta), Ciquita (Jakarta), Daffa (Jakarta), Douglas (Jakarta), Ghea (Bandung), Lung (Surabaya), Nuzula (Jakarta), Maria (Surabaya), Philips (Medan), Rizal (Jakarta), Tina (Yogyakarta). Proses pemilihan Icons of JFW 2021 akan dapat ditonton di web series The Search for JFW 2021 Icons segera di kanal YouTube resmi Jakarta Fashion Week.
Tahun lalu Jakarta Fashion Week berhasil mengirimkan 5 wakilnya Face Of Indonesia 2019 ke Face Of Asia yang diadakan di Korea Selatan, prestasi terbaik diraih Ayu Maulida berhasil meraih gelar tertinggi (Grand Prize) Face of Asia 2019.
Dan lima orang Face of Indonesia 2020 juga telah dipilih untuk mengikuti kompetisi Face of Asia yang akan diselenggarakan secara online untuk tahun ini, yaitu Odree (Bandung), Rayhan (Bandung), Reihana (Surabaya), Fabel (Bandung), dan Yuke (Bandung).
Penulis : Irwans