Ditengah kondisi global dunia yang belum ada kepastian dan makin meningkatnya pademi virus corona covid19, dengan total seluruh dunia positif terkena virus corona 17,745,609 meninggal dunia 682,197 dan 11,151,812. Dan negara Amerika Serikat berada diperingkat pertama dengan total positif 4,705,843 meninggal dunia 156,747 dan sembuh 2,327,556.
Membuat roda pemerintahan dan ekonomi seluruh dunia menjadi terpuruk dan diambang resesi. Kondisi tersebut juga berdampak dalam dunia pageants, yang akhirnya menunda penyelenggaran kontes kecantikan.
Tercatat ada empat beauty grand slam terbesar didunia yang akhirnya memundurkan jadwal penyelenggaraannya menjadi ketahun 2021.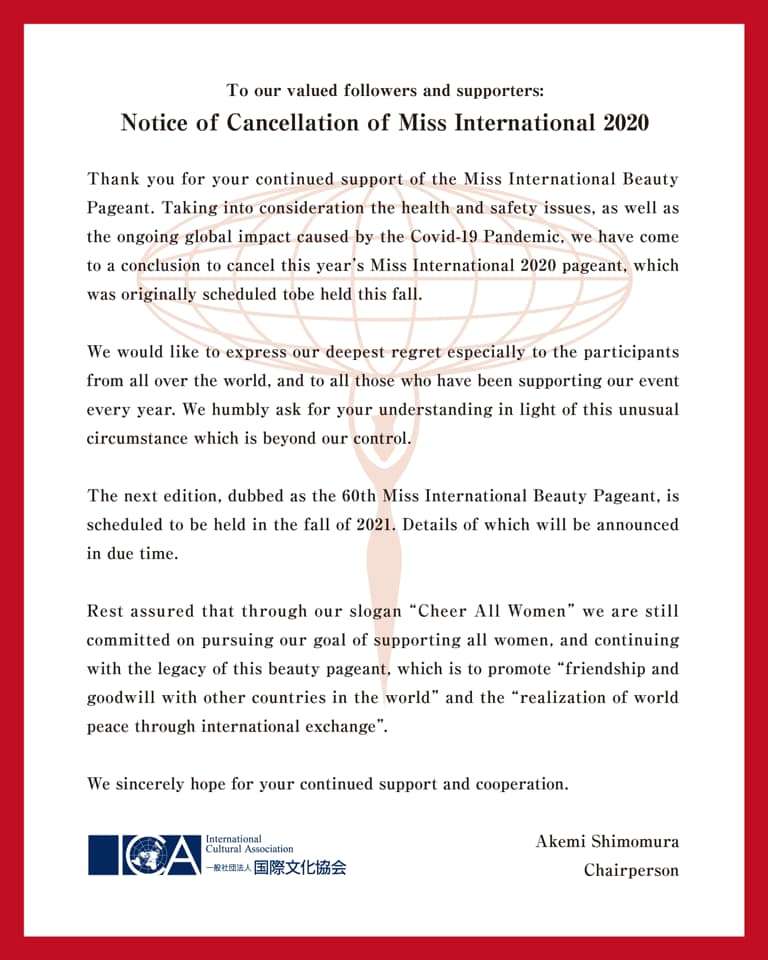 1. Miss International.
12 Juni 2020 Miss International sudah mengumumkan pemunduran jadwal kompetisi yang harusnya diadakan bulan Oktober 2020 di Jepang menjadi Oktober 2021. Alasan utama adalah masalah pademi covid19 yang tidak bisa memungkinkan setiap negara mengirimkan perwakilannya.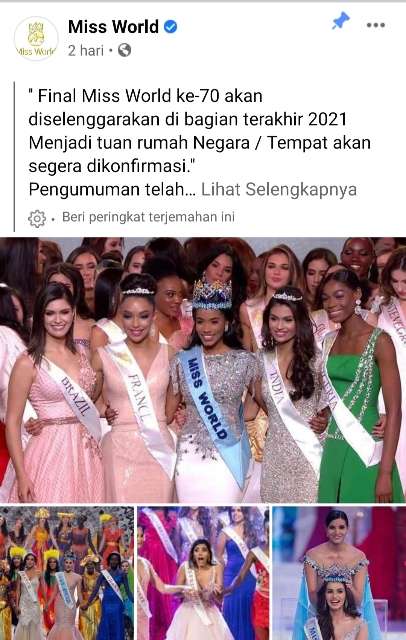 2. Miss World
30 Juli 2020, melalui official akun media sosialnya di Facebook, Miss World mengumumkan pemunduran jadwal kompetisi ketahun 2021. Pengumuman telah dibuat oleh Julia Morley chairwoman of miss world organization.
′′Kami telah mengambil keputusan untuk menunda final Miss World ke-70.Keselamatan adalah yang paling penting, kami juga berjuang melawan Covid 19 dan penyelenggaran Miss World tahun depan bisa berjalan spesial"
Final Miss World ke-70 akan diselenggarakan diakhir tahun 2021, untuk tempat dan negara penyelenggara akan segara dikonfirmasi.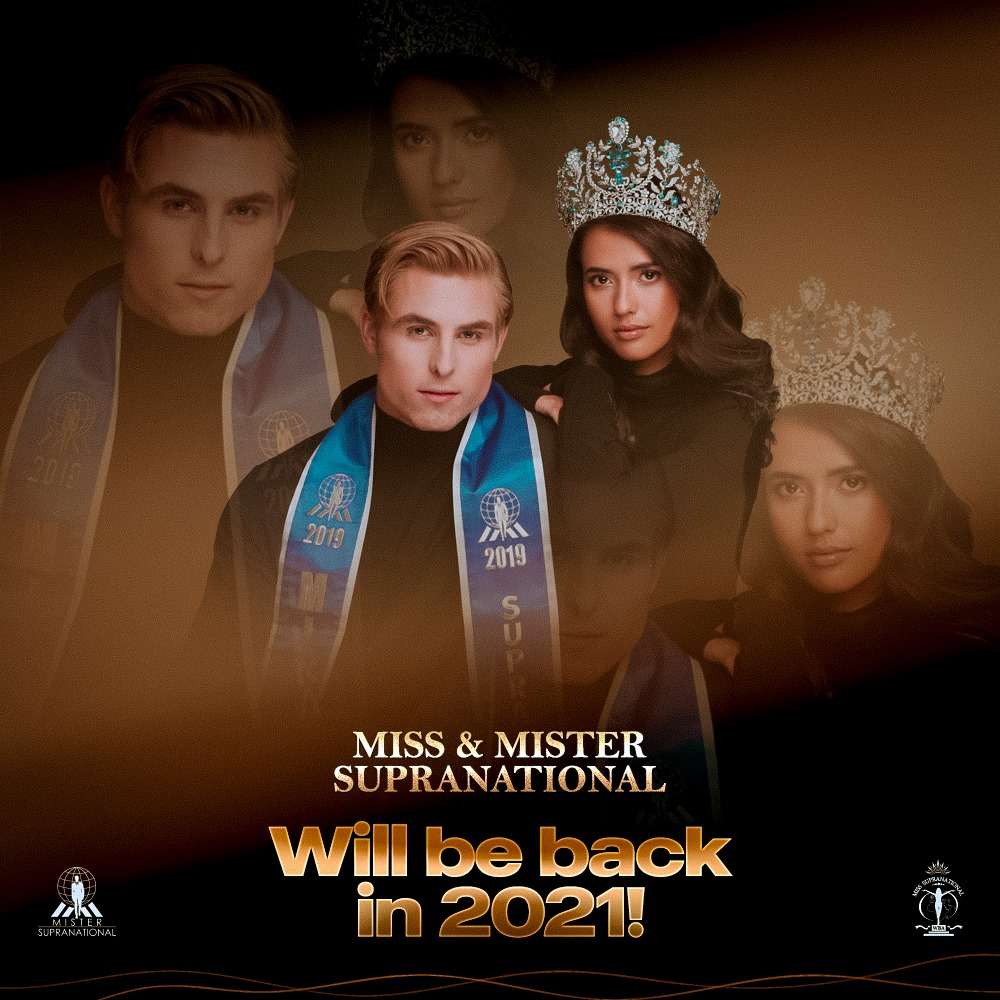 3. Miss Supranational
31 Juli 2020, melalui official akun media sosialnya di Facebook, Miss Supranational dan Mister Supranational mengumumkan pemunduran jadwal kompetisi ketahun 2021.
Gerhard Parzutka von Lipinski, Presiden Organisasi Miss and Mister Supranational, mengumumkan bahwa kedua kompetisi tersebut telah ditunda. Setiap tahunnya dijadwalkan penyelenggarannya pada bulan Desember.
Miss Supranational 2020 memasuki edisi ke-12 dan Mister Supranational edisi ke-5 sekarang akan diadakan pada tahun 2021 di Polandia.
′′ Mengadakan kompetisi selama pademi global bukanlah pilihan kami. Kami tidak ingin mengambil resiko dan tahun 2020 bukanlah waktu yang tepat untuk menyelenggarakan event internasional. Prioritas kami adalah kesehatan, keselamatan dan keamanan kontestan. Selama beberapa bulan mendatang, kami akan mengevaluasi situasi di dunia dan berkonsultasi dengan para sponsor kami untuk menentukan tanggal terbaik untuk kompetisi kami berikutnya. Saya ingin menegaskan bahwa kita akan kembali lebih kuat dari sebelumnya ketika kita merasa yakin bahwa saat berpergian menuju tempat penyelenggaran menjadi aman" ucap Parzutka von Lipinski.
Anntonia Porsild Miss Supranational 2019 dan Nate Crnkovic Mister Supranational 2019 gelarnya diperpanjang sampai kompetisi berikutnya berlangsung.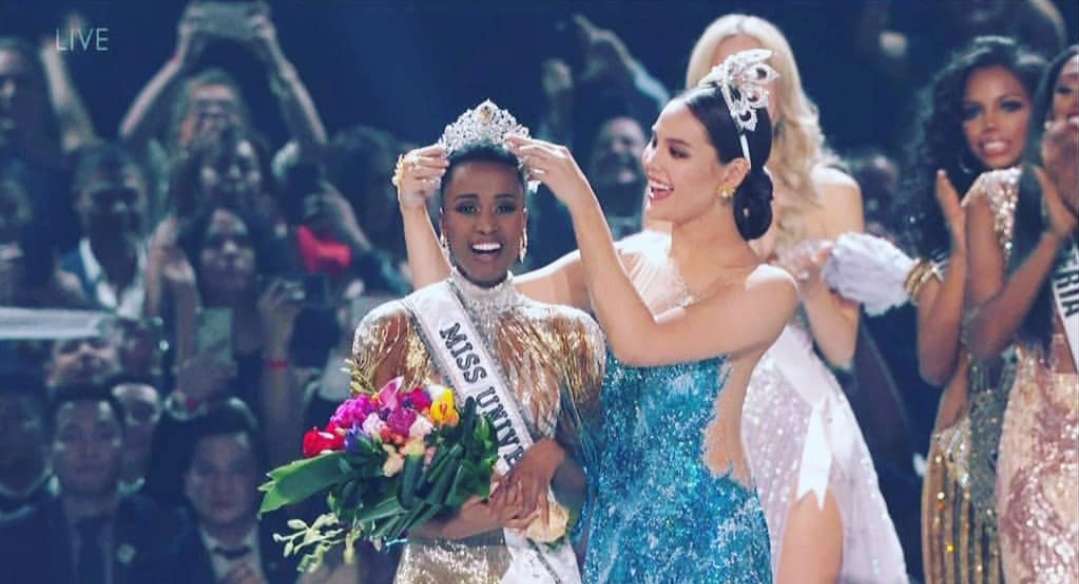 4. Miss Universe
1 Agustus 2020, dari akun portal paageants terbesar didunia, Global Beauties mengabarkan bahwa Carlos C. Fernandez, perwakilan Organisasi Miss Universe, telah memberi tahu kepada semua pemegang lisensi nasional bahwa, kontes Miss Universe tidak akan diselenggarakan tahun 2020 dan dimundurkan ketahun 2021.
Alasan utama pemunduran jadwal kompetisi tersebut adalaha ketidakpastian pandemi virus corona covid19 sebagai alasan penundaan.
Ditambah lagi kantor pusat Miss Universe yang berada di New York City, Amerika Serikat adalah negara urutan pertama didunia yang tertinggi terpapar virus corona covid19.
Penulis : Irwans