Nama designer Indah Darry setahun yang lalu sempat menghebohkan dunia fashion tanah air. Dirinya menjadi satu-satunya designer Indonesia yang mendapatkan kesempatan mengisi acara New York City (NYC) Live Fashion Week Spring Summer 2022.
New York City Live Fashion Week adalah bagian dari rangkaian acara New York Fashion Week. Jika di New York Fashion Week banyak diisi brand-brand besar dan ternama, sedangkan di New York City Live Fashion Week menghadirkan designer-designer baru dari seluruh dunia yang dipilih secara khusus, untuk memperkenalkan busana khas negara tersebut.
Tahun lalu tepatnya dibulan September 2021, Indah Darry membawa tema "Insos of Papua". Dihadiri 500 penonton dan diselenggarakan oleh The Mezzanine, 55 Broadway (Wall Street) New York, Amerika Serikat busana yang ia tampilkan mencuri perhatian pengamat mode di Amerika, bahkan diliput langsung oleh Voice Of America (VoA).
"Senang banget tahun lalu acaranya sukses, saya awalnya dihubungi langsung oleh Michael, beliau sudah lama mengamati design saya, terus mengajak untuk fashion show di New York, awalnya ga percaya, setelah di yakinkan baru mulai percaya, bahwa saya bisa show di Amerika"
Menurut penuturan Indah Darry, busana yang ia bawa semuanya habis terjual, bahkan ada seorang model yang menjadi model runway nya di New York City Live Fashion Week tersebut selesai acara langsung membeli, ia bilang designnya unik dan tidak pasaran.
Kesuksesannya tersebut menjadi pusat perhatian media tanah air dan luar negeri mulai dari Metro TV, Kompas TV, media cetak, online dan ada juga media cetak dari Taiwan.
Wanita berusia 58 tahun kelahiran Magelang, Jawa Tengah kabar kini akan tampil kembali di New York City Live Fashion Week Spring Summer 2023 pada bulan September nanti.
Tahun ini Indah Darry mengusung tema "Borneo" ada 15 busana yang ia bawa 14 busana pria dan 1 busana wanita. Beruntungnya lagi Deo Nikolas Manhunt International Indonesia 2022 akan menjadi salah satu modelnya.
"Rencananya Deo Nikolas Manhunt International Indonesia 2022 akan menjadi model saya di New York City Live Fashion Week 2023, semoga tidak ada halangan ya" ujarnya.
Indah Darry mempunyai alasan tersendiri mengapa membawa Deo Nikolas sebagai modelnya ke New York City Live Fashion Week 2023.
"Untuk menjadi model diacara tersebut ada yang audisi langsung, dan portofolio disukai pihak sana. Kebanyakan model-model yang sering show berkulit eksotik dan gelap, mereka juga punya pengalaman show dengan brand-brand besar seperti Dior dan yang lainnya, dengan kehadiran Deo ini menjadi warna baru ada model dari Indonesia yang potensial juga" Jawabnya.
Deo sendiri sudah melakukan sesi photoshoot dengan busana yang akan dibawa tersebut. Photoshoot dilakukan di negara Singapura saat Deo menghadiri crowning moment Emilbiany Miss Grand Singapore 2022 dengan photographer James Radar yang juga Mister Tourism And Culture Universe Indonesia 2020.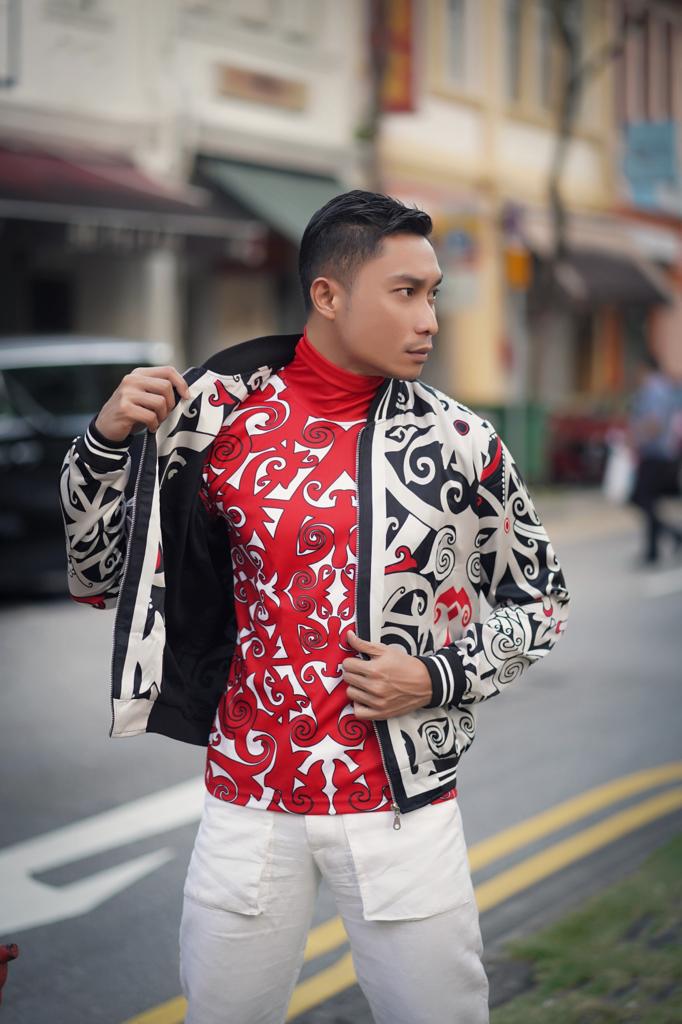 Motif-motif cantik dari Talawang atau perisai khas suku Dayak Kalimantan (Borneo) terlihat gagah dipakai Deo, perpaduan jaket dominasi warna hitam dengan dalaman kaos turtle neck warna merah.
"Senang dan bangga bisa menjadi bagian show mbak Indah Darry di New York City Live Fashion Week 2023, apalagi busana yang saya pakai ini dibuat secara handmade dan khusus" ucap Deo
Talawang sendiri adalah tameng atau perisai pelindung diri khas masyarakat Suku Dayak. Dalam bahasa Dayak Ngaju alat ini disebut talawang, sedangkan dalam bahasa Dayak Ma'anyan disebut dengan nama kajubet. Oleh masyarakat setempat, perisai tersebut digunakan sebagai pelengkap mandau, yaitu senjata tajam sejenis parang.
Busana-busana Indah Darry bisa ditemui dipusat perbelanjaan Sarinah, Sarinah Terminal 3 Soekarno Hatta, Bandara Ngurah Rai Bali dan beberapa gerai butik lainnya di Bali.
Penulis : Irwan