Jumat, 22 November 2019 Meet & Great Miss Grand International 2019 berlangsung meriah dan seru di Ecology Bistro & Lounge yang berada dikawasan Kemang, Jakarta Selatan.
Turut hadir Valentinaa Figurem Miss Grand International 2019 asal Venezuela dan Coco Arayha 2nd runner up Miss Grand International 2019 asal Thailand, serta hadir juga Mr. Nawat selaku Chairman of Miss Grand International.
Miss Grand International hadir cantik mengenakan gaun malam, sedangkan Mr. Nawat tampak gagah mengenakan batik keemasan lengan panjang.
Dalam acara meet & great tersebut sekaligus diumumkannya Ivan Gunawan sebagai national director terbaru Miss Grand Indonesia 2020. Sejujurnya Ivan mengakui masih trauma kembali mengeluti dunia beauty pageants, ia pernah mengalami bullying saat memegang Bunga Jelitha Ibrani yang waktu itu gagal masuk semifinalis Miss Universe 2017 dan berhasil mengantarkan Nadia Purwoko sebagai 2nd runner up Miss Grand International 2018.
Hiruk pikuk drama dunia pageants yang menderanya, membuat Ivan menyepi hampir mau setahun dengan tidak berhubungan lagi dengan beauty pageants.
Kehadiran Mr. Nawat ke Indonesia yang sudah lama menjalin kedekatan kerjasama, dimana Mr. Nawat sudah Ivan anggap sebagai saudara sendiri. Mr. Nawat kemudian memberikan kepada Ivan Gunawan untuk meneruskan sebagai national director yang baru Miss Grand Indonesia.
Gayung bersambut, Ivan Gunawan akhirnya menerima tawaran tersebut. Dengan itu penanda tanganan kontrak Lisensi Miss Grand Indonesia 2020 maka resmi dipegang Yayasan Dunia Mega Bintang adalah pemegang sah lisensi Miss Grand Indonesia ke depannya.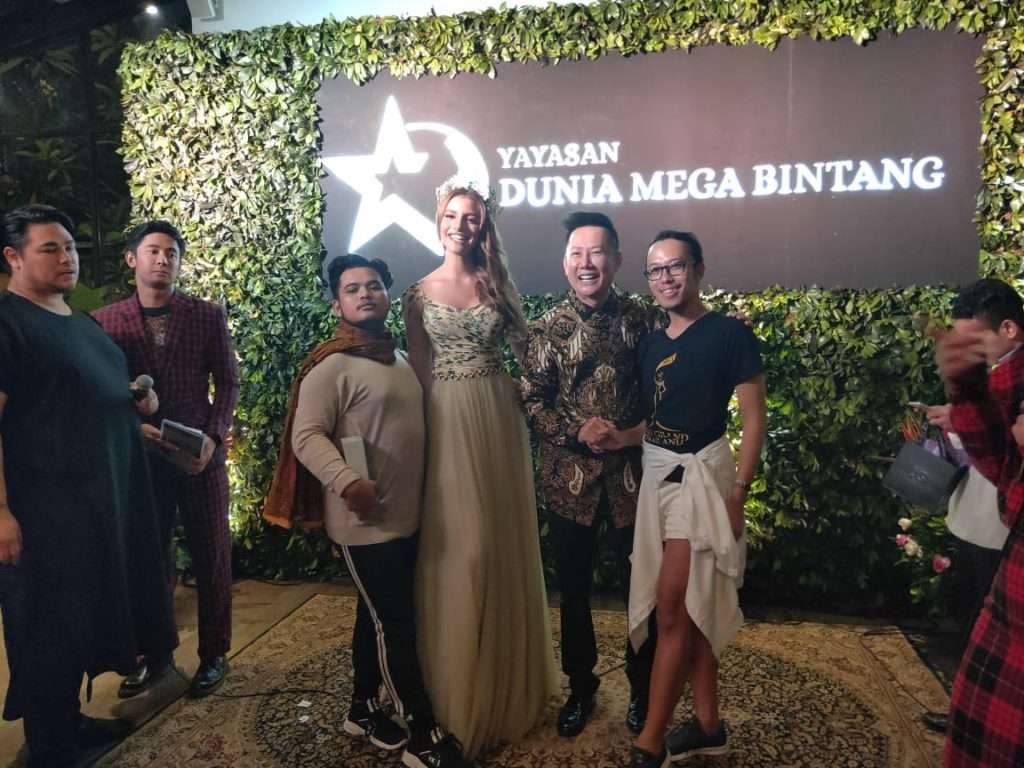 Untuk itu segala Informasi, foto dan announcement yang berkaitan tentang Miss Grand Indonesia di bawah naungan Ivan Gunawan hanya akan diposting dan dishare melalui akun Yayasan Dunia Mega Bintang
Dan dengan ini pula Ivan Gunawan mengumumkan kriteria peserta Miss Grand Indonesia 2020 :
– Wanita
– Maksimum berusia 25 tahun
– Tinggi minimum 175cm
– Punya karakter dan kepribadian unik
– Tak harus fasih berbahasa Inggris namun harus bisa berkomunikasi
– Tidak pernah mengikuti ajang kontes kecantikan manapun
– Audisi terbuka untuk umum di Jakarta
– Tidak mengunakan nama selempang daerah
– Peserta yang terpilih sebagai finalis Miss Grand Indonesia 2020 akan memakai nomor urut.
Ivan Gunawan juga memastikan ia hanya menerima peserta audisi yang belum pernah mengikuti ajang kontes kecantikan dari yayasan manapun sehingga ia bisa mendapatkan peserta yang berkualitas. Ia juga mengatakan bahwa Miss Grand Indonesia 2020 akan dibuat semenarik mungkin dan belum bisa memastikan televisi mana yang akan menyiarkan, pastinya ia berharap pemenang Miss Grand Indonesia 2020 dapat bekerja dengan baik.
Ivan juga mengaku sudah berdamai dan tidak ingin adanya permusuhan dengan yayasan yang lainnya, seperti semboyan Miss Grand International "Stop The War and Violence" meski sekarang ia sudah disahkan sebagai pemenang lisensi yang baru. Dalam acara tersebut turut hadir juga Sarlin Jones Miss Grand Indonesia 2019 yang hadir dari yayasan sebelumnya. Sarlin hadir atas inisiatif sendiri.
Miss Grand International diadakan pertama kali tahun 2013 dan untuk lisensinya di Indonesia sudah sempat berpindah tangan beberapa kali sebelum sekarang di pegang Ivan Gunawan untuk tahun 2020.
2013 Miss Grand Indonesia dipegang Yayasan Puteri Indonesia, 2014-2015 dipegang Yayasan El John Indonesia, 2016-2017 kembali dipegang Yayasan Puteri Indonesia, 2018-2019 dipegang Yayasan Darma Gantari dan 2020 di pegang Yayasan Dunia Mega Bintang dibawah naungan Ivan Gunawan.
Penulis : Irwans