Batik adalah kain bergambar yang pembuatannya secara khusus dengan menuliskan atau menerakan malam pada kain itu, kemudian pengolahannya diproses dengan cara tertentu yang memiliki kekhasan.
Batik adalah kerajinan yang memiliki nilai seni tinggi dan telah menjadi bagian dari budaya Indonesia (khususnya Jawa) sejak lama. Perempuan-perempuan Jawa pada masa lampau menjadikan keterampilan mereka dalam membatik sebagai mata pencaharian, sehingga pada masa lalu pekerjaan membatik adalah pekerjaan eksklusif perempuan sampai ditemukannya "Batik Cap" yang memungkinkan masuknya laki-laki ke dalam bidang ini.
Budaya membatik kini juga menyebar keseluruh Indonesia, dan disetiap daerah diaplikasikan motif khas masing-masing.
Pada tanggal 2 Oktober 2009 oleh UNESCO telah menetapkan bahwa Batik sebagai Warisan Kemanusiaan untuk Budaya Lisan dan Nonbendawi (Masterpieces of the Oral and Intangible Heritage of Humanity)
Menyambut Hari Batik Nasional, yang jatuh setiap tanggal 2 Oktober, team Pageantempire menghadirkan 6 ratu kecantikan dunia yang terlihat makin cantik memakai busana batik Indonesia.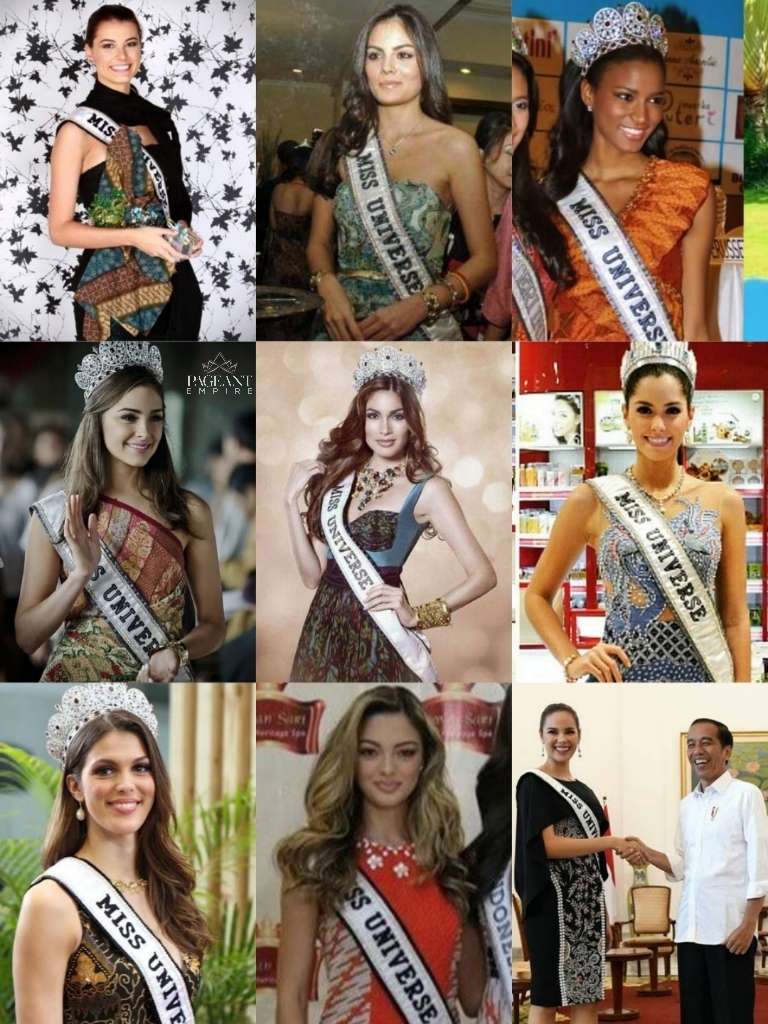 1. Miss Universe
Setiap tahun penyelenggaraan Puteri Indonesia selalu menghadirkan pemenang Miss Universe untuk hadir dimalam final dan berbagai kegiatan.
Mereka adalah Stefania Fernandez (Miss Universe 2009) Ximena Navarrete (Miss Universe 2010) Leila Lopes (Miss Universe 2011) Olivia Culpo (Miss Universe 2012) Gabriela Isler (Miss Universe 2013) Paulina Vega (Miss Universe 2014) Iris Mittenaere (Miss Universe 2016) Demi Leigh (Miss Universe 2017) dan Catriona Gray (Miss Universe 2019).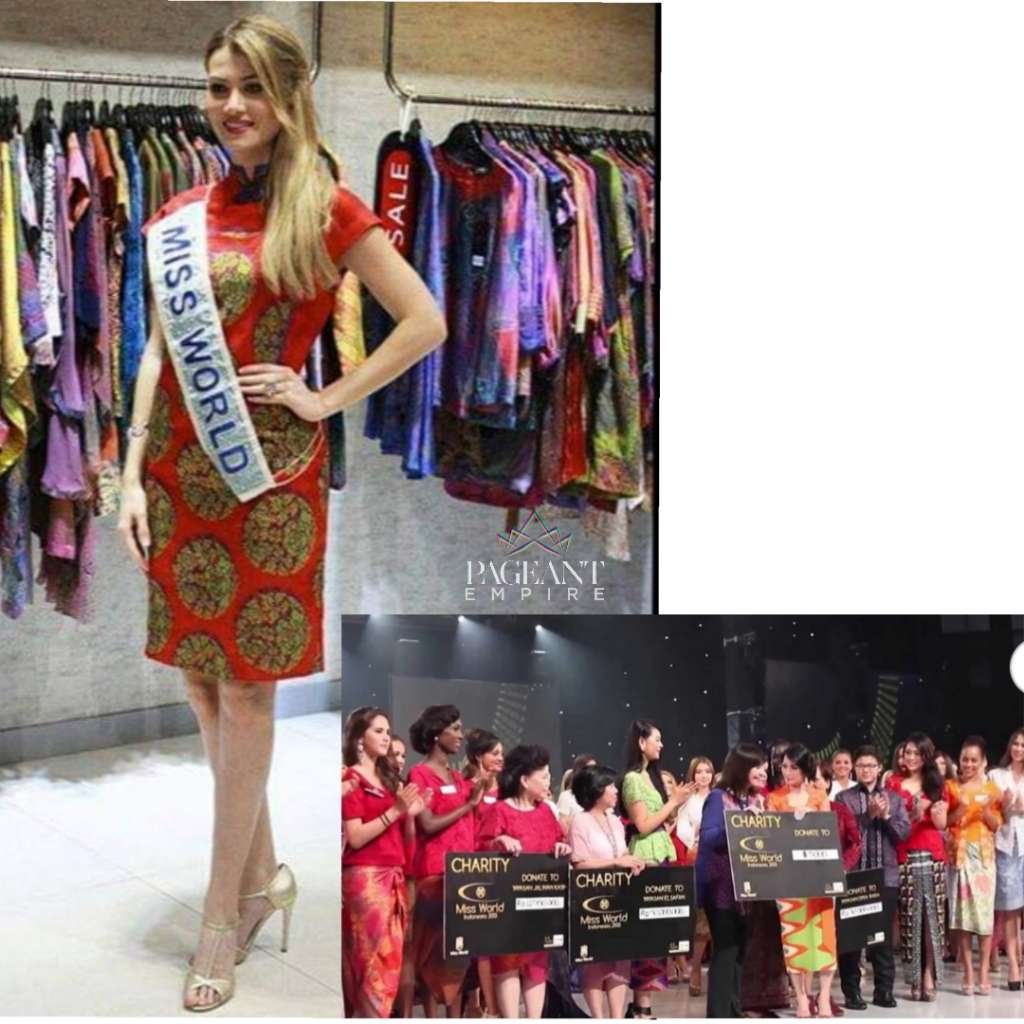 2. Miss World
Miss World 2013 diadakan di Bali, Indonesia. Saat itu 127 finalis tampil mengenakan kebaya dan kain batik serta kain nusantara lainnya saat sesi Gala Charity.
Selain itu Mireia Lalaguna Miss World 2015 yang hadir di Indonesia, sempat mampir dan mengenakan Alleria Batik.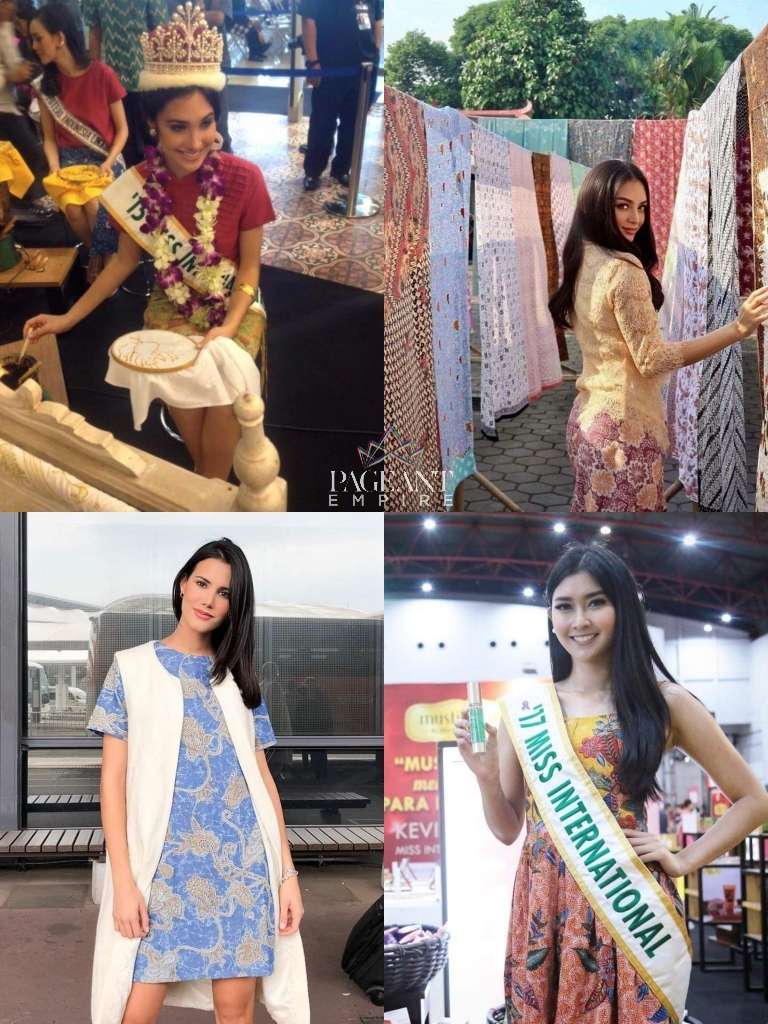 3. Miss International
Selain Kevin Liliana Miss International 2017 dari Indonesia, dalam 4 tahun terakhir pemenang Miss International selalu suka dengan batik Indonesia.
Dimulai saat Edymar Martinez Miss International 2015 menghadiri malam final Puteri Indonesia 2016, selesai malam final Edymar dan Kezia Warouw Puteri Indonesia 2016 berkunjung ke Pendopo di Living World Alam Sutera, Tangerang pada hari Sabtu, 20 Februari 2016, disana Edymar diajak membatik bersama.
Kylie Verzosa Miss International 2016 berkunjung ke Indonesia pada bulan Oktober 2017 atas undangan sebuah perusahaan, disela-sela kegiatannya, Kylie juga melakukan shooting iklan dengan mengunakan batik Indonesia.
Mariem Velasco Miss International 2018 terlihat bahagia saat menghadiri karantina Miss International 2019. Saat itu Mariem mengenakan kain batik yang dibuat menjadi outer, postingan itu ia bagikan diakun Instagram pribadi, tidak lupa ia menuliskan bahwa batik yang ia pakai tersebut adalah batik Indonesia.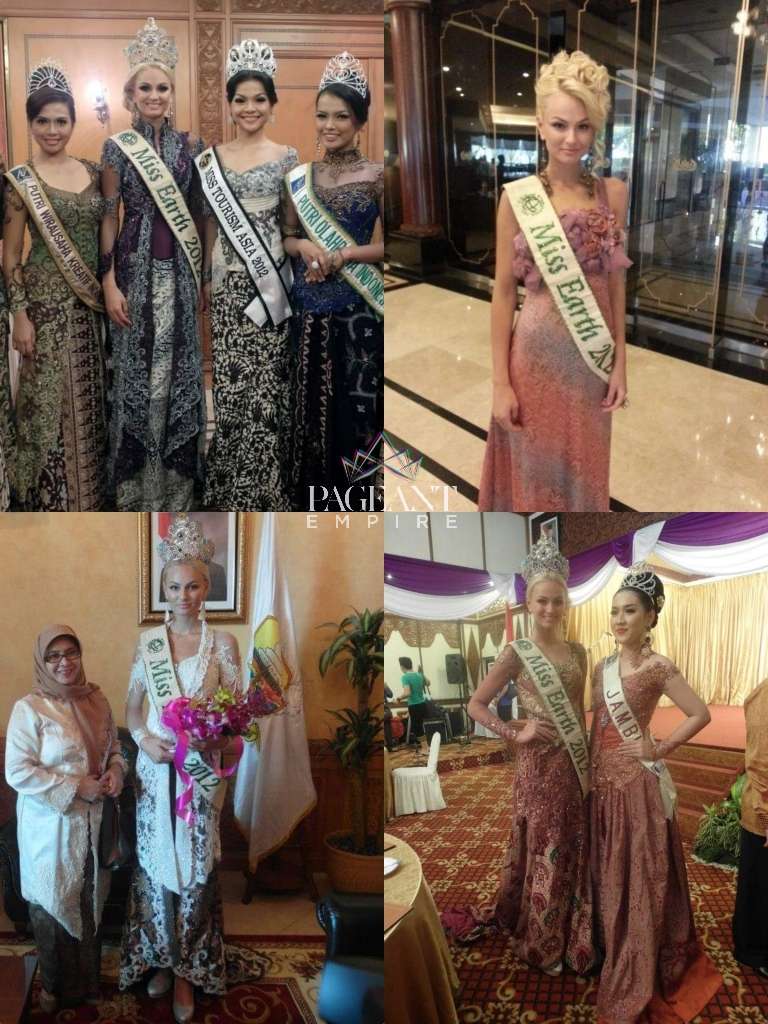 4. Miss Earth
Teresa Fajksova Miss Earth 2012 hadir di Indonesia atasa undangan Yayasan Eljohn Indonesia untuk menghadiri rangkaian kegiatan dan malam final Miss Earth Indonesia 2013.
Disela-sela kegiatannya, Teresa banyak mengenakan kain batik Indonesia dipadukan dengan baju kebaya.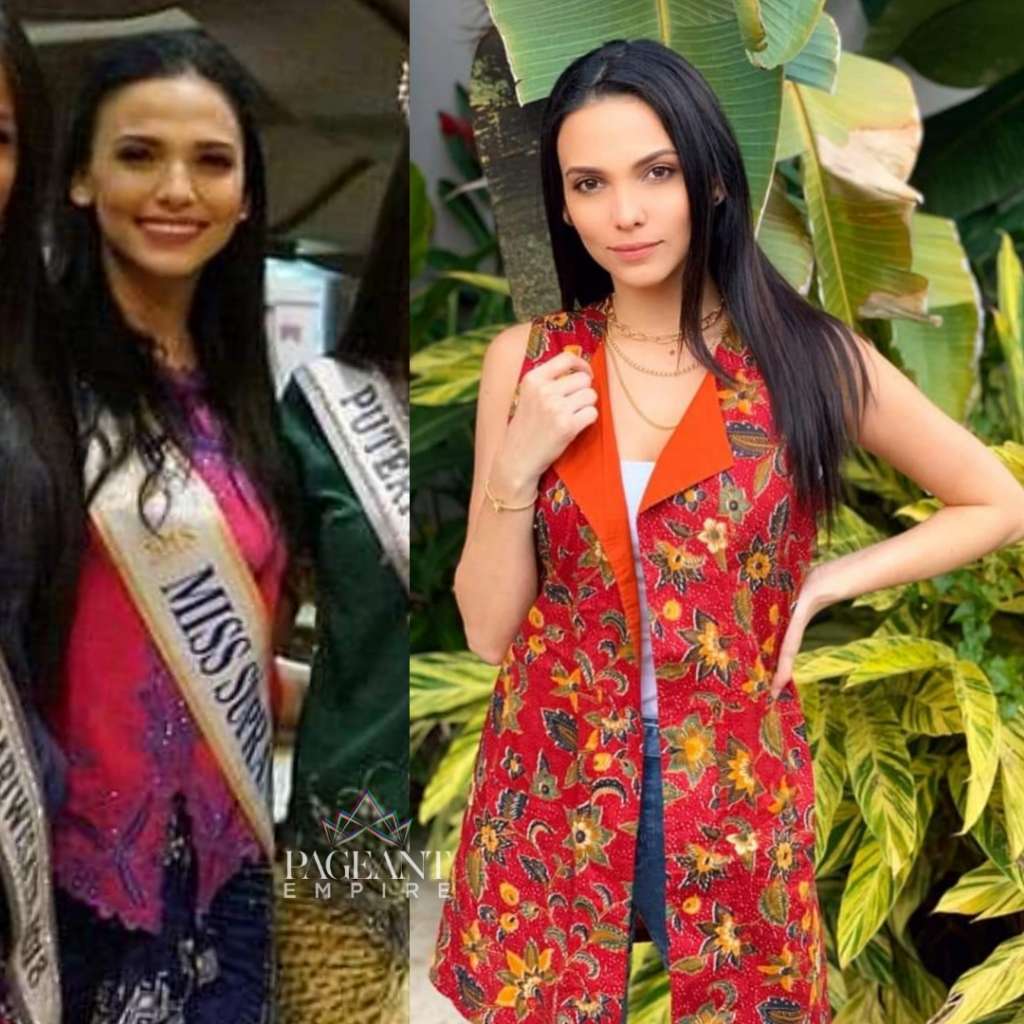 5. Miss Supranational
Sejak tiga tahun terakhir Miss Supranational secara rutin hadir dimalam final Puteri Indonesia. Namun yang membuat paling berkesan adalah saat Valeria Vasquez Miss Supranational 2018 asal Puerto Rico hadir di Indonesia, dalam berbagai kesempatan ia terlihat mengenakan batik Indonesia.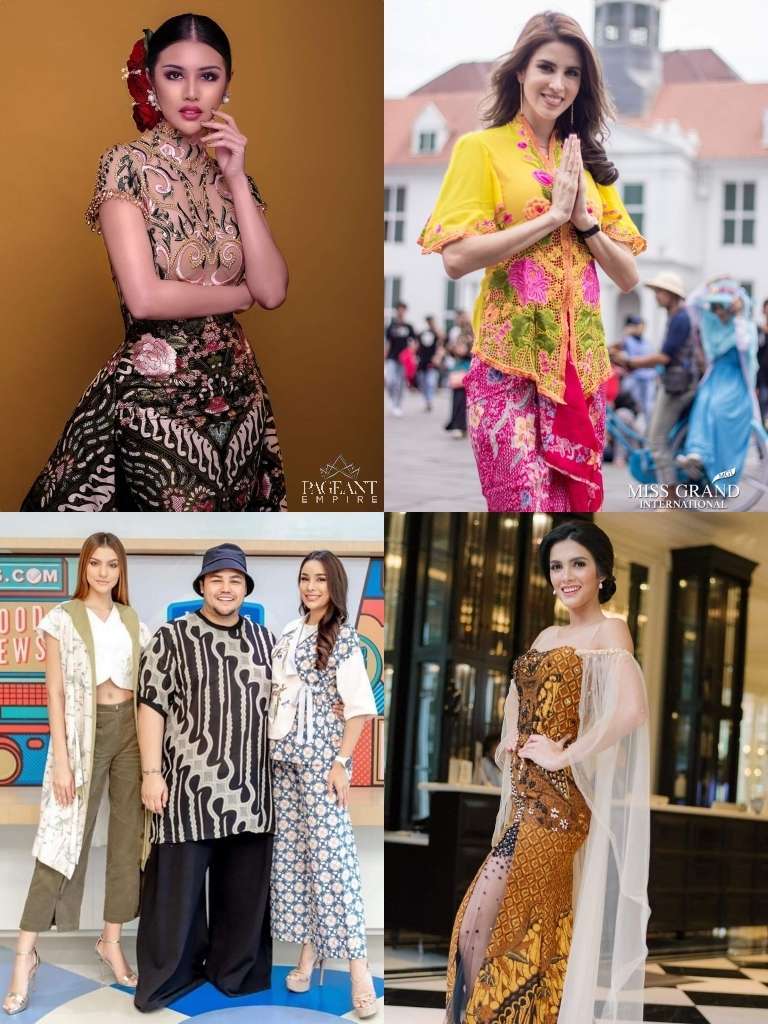 6. Miss Grand International
Semenjak Indonesia menang sebagai Miss Grand International 2016, melalui Ariska Putri Pertiwi. Setiap tahun Miss Grand International selalu hadir dimalam final Miss Grand Indonesia, dalam berbagai kesempatan mereka mengenakan Batik Indonesia.
Ariska Putri Pertiwi (Miss Grand International 2016) Maria Jose Loral (Miss Grand International 2017) Clara Sosa (Miss Grand International 2018) dan Valentina Figuerm (Miss Grand International 2019)
Penulis : Irwans